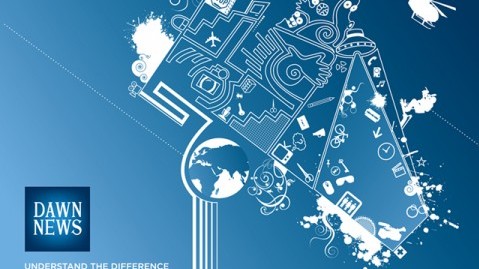 ---
KARACHI: DawnNews, which once prided itself on being the country's first English-language news channel, has decided to turn into a full-fledged Urdu language channel.

The change is expected to occur today. DawnNews started an Urdu transmission from 8:00 to 11:00 pm a few months ago and later increased this to 12 hours. Now, the change appears complete as the channel will have programming solely in Urdu. The most cited reason for this transition is the financial difficulty of running an Englishlanguage channel in a market dominated by Urdu language news and entertainment channels.

Advertising revenue is the sole source of revenue for Pakistani television channels and the amount of advertising revenue a channel is able to make is almost entirely dependent on 'ratings points.' Ratings points are obtained by a 'people meter' audience measurement system, a system that is widely employed throughout the world to measure how many people are watching a particular programme at a particular time.

And, given the small viewership that understands and watches English-language television in Pakistan, niche channels such as DawnNews and Express 24/7 (a sister company of The Express Tribune) have proven a tough sell to advertisers. Nadeem Jamal, currently an Executive Producer with Express 24/7 but formerly in the same position at DawnNews, remarks that "It (DawnNews) was a wonderful project, pulled off by a very energetic team; it gave tough competition to widely popular Urdu language news channels. It's sad to know it's going Urdu due to financial constraints, let's hope it does well and is able to retain its identity in this cut throat competition among news channels."

Some DawnNews staffers reached by The Express Tribune claim that going Urdu has proved to be much more lucrative for the organisation as it has resulted in a considerable increase in advertising and viewership. However, they add that becoming a solely Urdu channel poses its own set of challenges as now the channel will have to compete with entrenched and well-financed competitors such as Geo News, Aaj, Dunya and Express News.

This will be the second attempt by the Dawn Media Group to cater to the vernacular, mass market. The first time was in the 1970s when the company acquired but then later shut down Hurriyat, an Urdu morning daily. When contacted, Shakeel Masood, the CEO of DawnNews said that it is premature to give any comments at this point in time as the full Urdu transmission hasn't been launched just yet. Abbas Nasir, the Editor of DawnNews, and Mubashir Zaidi, Director News of the channel, refused to comment.

DawnNews has hired Wusatullah Khan, a prominent BBC Urdu journalist who, along with DawnNews' senior anchor Osama Bin Javed, will be expected to lead the channel's venture to compete in the Urdu news space.

Published in the Express Tribune, May 15th, 2010.
COMMENTS (19)
Comments are moderated and generally will be posted if they are on-topic and not abusive.
For more information, please see our Comments FAQ