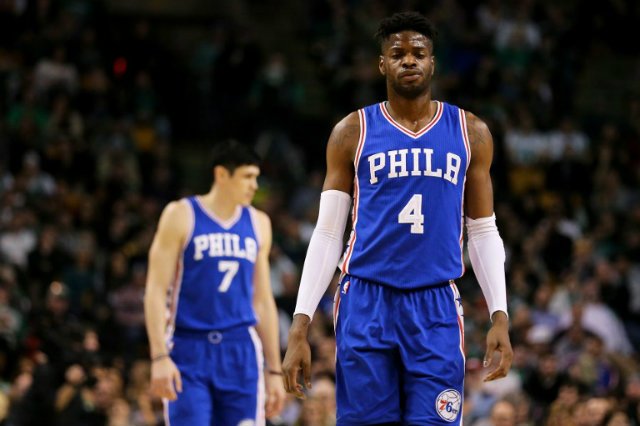 ---
NEW YORK: Australian center Andrew Bogut has been traded from the Dallas Mavericks to the Philadelphia 76ers in an NBA deal sending forward Nerlens Noel to Dallas, according to multiple reports Thursday.

As the league's transfer window slammed shut ahead of the resumption of games after the NBA All-Star Game break, teams made final moves to tweak rosters for playoff runs or reduce payrolls in hopes of free agency spending next July.

ESPN, Fox Sports and Yahoo Sports all reported the swap, which sees the Mavericks also send guard Justin Anderson and a first-round NBA Draft choice.

Philadelphia reportedly will look to trade Bogut, who helped the Golden State Warriors win the NBA title two seasons ago and was part of last season's record 73-win Warriors team before being sent to Dallas to make salary room for Golden State to sign superstar Kevin Durant.


NBA gears up for business end of the season


The 76ers still plan to have a right foot scan Thursday on Ben Simmons, the Aussie playmaker who was taken with the top pick in last year's NBA Draft. Simmons has yet to play in the league after suffering a broken right foot in the 76ers' final training camp workout.

Turkish forward Ersan Ilyasova, enjoying a career-best season, was traded from the 76ers to Atlanta late Wednesday for injured Brazilian center Tiago Splitter, a second-round NBA Draft pick and the right to swap second-round picks with the Hawks in June's NBA Draft.

Oklahoma City added frontcourt help for NBA scoring leader Russell Westbrook, obtaining forwards Taj Gibson and Doug McDermott plus a 2018 second-round draft pick from the Chicago Bulls for reserve guards Cameron Payne and Anthony Morrow plus French forward Joffrey Lauvergne.

Gibson will be a free agent after the season and his departure came a day after Turkish forward Enes Kanter returned to Bulls practice for the first time since breaking his arm hitting a chair last month.


American football player faces criminal charges after issuing 'terroristic threats'


The Toronto Raptors, who faded to seven games behind defending NBA champion Cleveland in the Eastern Conference at 33-24, added forward PJ Tucker from Phoenix. The Raptors added Spanish forward Serge Ibaka before the All-Star break and now Tucker. Both will be free agents after the season.

The Suns filled the frontline gap by obtaining Mike Scott from Atlanta for cash and a future draft pick.

The Denver Nuggets added center Roy Hibbert in a deal with Milwaukee, which received a future second-round draft pick.


LeBron James surpasses major career milestone


The Houston Rockets, with the NBA's fourth-best record at 40-18, made about $5 million in salary cap space by sending KJ McDaniels to the Brooklyn Nets and Tyler Ennis to the Los Angeles Lakers. Houston was expected to release Brazil's Marcelo Huertas, obtained in the Lakers deal.