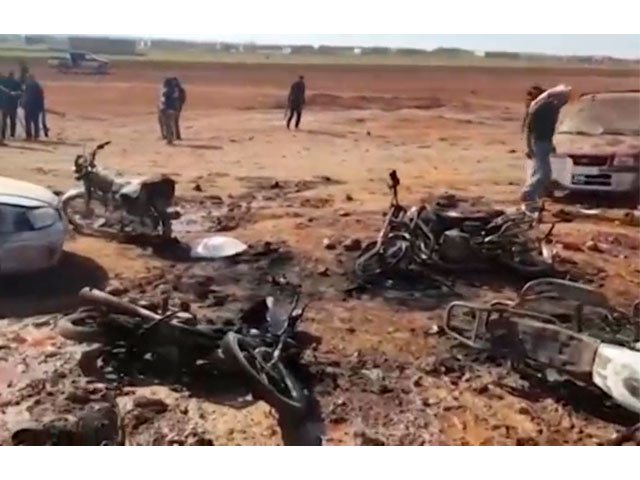 ---
BEIRUT/ISTANBUL: An Islamic State car bomb killed more than 40 people on Friday in a Syrian village held by rebels backed by Turkey, sources in the region and a war monitor said, a day after the militant group was driven from its last stronghold in the area.

The blast hit a security checkpoint controlled by rebels fighting under the Free Syrian Army (FSA) banner in the village of Sousian, killing 41 people including 35 civilians, the sources in the region said. The Syrian Observatory for Human Rights, a Britain-based war monitor, said 42 people were killed.

The Turkey-backed rebels had on Thursday driven Islamic State from al-Bab and two smaller towns nearby after weeks of streetfighting, depriving the hardline militants of their last big possession in northwest Syria.

Sousian is behind the rebel lines about eight km (five miles) northwest of al-Bab.

Two Turkish soldiers killed in Al-Bab attack

A rebel fighter with the Sultan Murad Brigade near al Bab said: "It was done on a checkpoint but there were a lot of families there gathered and waiting to get back to al-Bab. Therefore we have many civilian casualties."

Fighting continues

Islamic State said in a social media posting that it was behind the attack. On Thursday it acknowledged it had lost control of al-Bab.

Also on Thursday, several Turkey-backed rebels were killed by a mine in al-Bab while clearing the town of unexploded ordnance after Islamic State retreated, the Observatory said.

"There are still lots of cells inside Bab. It is very dangerous. Our search and clear operation is still underway," the rebel fighter said.

Syria's main conflict pits President Bashar al-Assad, backed by Russia, Iran and Shia militias, against rebels that include groups supported by Turkey, the United States and Gulf monarchies.

However, both those sides, as well as a group of militias led by Kurdish forces and supported by the US, are also fighting Islamic State, which holds large swathes of northern and eastern Syria.

Turkey directly intervened in Syria in August in support of a group of rebel factions fighting under the Free Syrian Army banner to drive Islamic State from its border. It also wants to stop Kurdish groups gaining control of most of the frontier.

Turkish military says 56 Islamic State militants killed in Syria

After taking al-Bab on Thursday, Turkish forces shelled Islamic State in the smaller neighboring town of Tadef, the Observatory reported.

The area immediately to the south of Tadef is held by the Syrian army and its allies, which have in recent weeks pushed into Islamic State territory in that area from Aleppo and advanced towards the Euphrates river.

Further east, the Syrian Democratic Forces, the group of Kurdish-led militias backed by the United States, have in recent weeks taken dozens of villages from Islamic State as they close in on the group's Syrian capital of Raqqa.
COMMENTS
Comments are moderated and generally will be posted if they are on-topic and not abusive.
For more information, please see our Comments FAQ