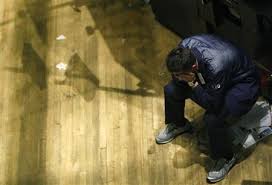 ---
Online programs offering cognitive behavioural therapy (CBT) without the therapist can reduce depression symptoms for some, according to a new review of existing research on the topic.

Automated CBT programmes, or iCBT, which work to change a patient's non-productive thoughts, attitudes and beliefs, are designed to make it easier for people to get therapy at low cost and with less fear of stigmatisation.

But recent large trials have produced conflicting answers about whether such self-guided internet-based therapy is effective.

In the new analysis, researchers attempted to resolve the issue by examining data from 13 studies comparing iCBT to alternative treatments or to a placebo and involving a total of 3,832 patients.

Mental health awareness: On the road to recovery via art

Compared to the 1,603 depressed patients in control groups - who received other treatments, care from a general practitioner, attention placebo or were put on a waiting list - people who used the iCBT websites were significantly more likely to show improvement.

And when it was effective, online cognitive therapy was just as likely to work regardless of the patient's degree of depression.

"People with severe depression at the beginning of the treatment had a similar response to treatment as people with mild or moderate depression," chief author Eirini Karyotaki of the EMGO Institute for Health and Care Research in Amsterdam told Reuters Health by email.

Not surprisingly, patients who adhered best to the iCBT treatment and completed the online sessions did better than those who did not.

When the researchers looked at the sociodemographic and clinical characteristics of the volunteers, they were unable to uncover any factors that increased the likelihood of a successful outcome, according to the report in JAMA Psychiatry.

Based on the success rates, Karyotaki and her team calculate that the intervention would need to be given to eight patients in order to achieve 50 per cent symptom reduction in one patient.

"This can be clinically relevant if you consider that in low- and middle- income countries there is no infrastructure for mental health. When self-guided iCBT is disseminated worldwide, the overall impact can be high, because of the large numbers of people that can be reached with it," Karyotaki said.

Depression top cause of disability, strikes young and old: WHO

Five of the studies evaluated in the meta-analysis used the publicly-available iCBT programme at deprexis.com.

Patients from Australia, Germany, the Netherlands, Spain, Switzerland and the United Kingdom made up the patient pool. The programmes they used required between five and 11 sessions. "Each online session lasts approximately one hour and most of the times patients are advised to follow one session per week," Karyotaki said.

The researchers caution that they were unable to assess whether how long a person had been depressed influenced the effectiveness of the iCBT treatment. "Duration of symptoms is important because individuals with chronic depressive symptoms may not always respond rapidly to treatment," they write.

And before the practice is widely adopted as routine care, limitations of the therapy, such as high dropout rates and the small effects compared to in-person or guided internet therapy need to be addressed, they write.