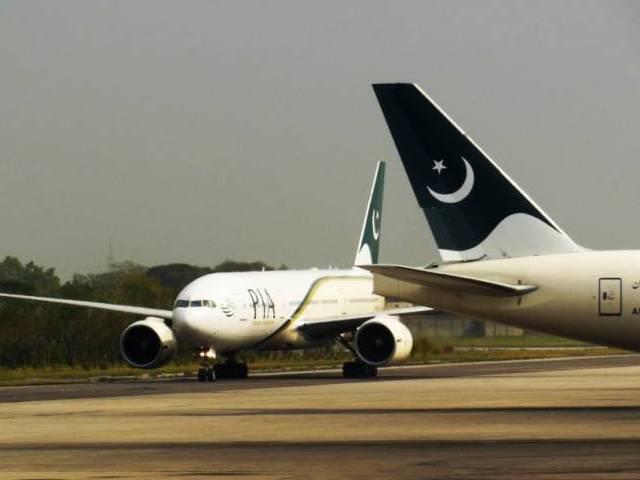 ---
Seven passengers were forced to stand on a Pakistan International Airlines (PIA) flight from Karachi to Madina on January 20, despite having paid for their respective seats.
The airline boarded passengers on the overbooked flight PK-743 in a serious breach of air safety regulations. The seven excess passengers were forced to stand throughout for the entirety of the four-hour flight.
According to sources, the national carrier's management, including the pilot, senior purser and traffic staffers are shifting blame on each other for not being vigilant enough.
12 staffers of PIA arrested in heroin case
The aircraft, a Boeing 777, had a seating alignment for 409 people, including jump seats, but due to negligence, the airliner had 416 passengers aboard.
Speaking to The Express Tribune, PIA spokesperson Danyal Gilani said, "The matter is being investigated closely and anyone found guilty will be taken to task."
Captain Anwer Adil, who operated the flight on January 20, said in a statement, "After take-off when I came out of the cockpit, the senior purser informed me that there were some extra people who were boarded by traffic staff. I also noticed that some of them were people whom I had categorically refused jump seats at the check-in counter before the flight when they approached me for grant of the jump seat."
He alleged that they were from the flight services department. "I had already left and the senior purser did not point out extra passengers before closing the aircraft door. Therefore after take-off, immediate landing back in Karachi was not possible. It may be appreciated that immediate landing in Karachi after take-off required a lot of fuel dumping which was not in the interest of the airline," he added.
Further, the captain said, "In Madina and after landing in Karachi from return flight, I could not highlight this fact in the captain's debrief."
PIA rubbishes reports of technical fault in international flight
He also said, "It was the responsibility of the senior purser to ensure that the number of passengers tallied with the trim sheet (airline document) and that if there were any extra passengers, she should not have accepted them. It was her responsibility to not close the door if the number of passengers did not tally with the trim sheet."
The traffic staff was equally responsible as they were under obligation to ensure that only passengers as per the trim sheet board the aircraft and there were no extra passengers on board, the captain further added.
COMMENTS (19)
Comments are moderated and generally will be posted if they are on-topic and not abusive.
For more information, please see our Comments FAQ