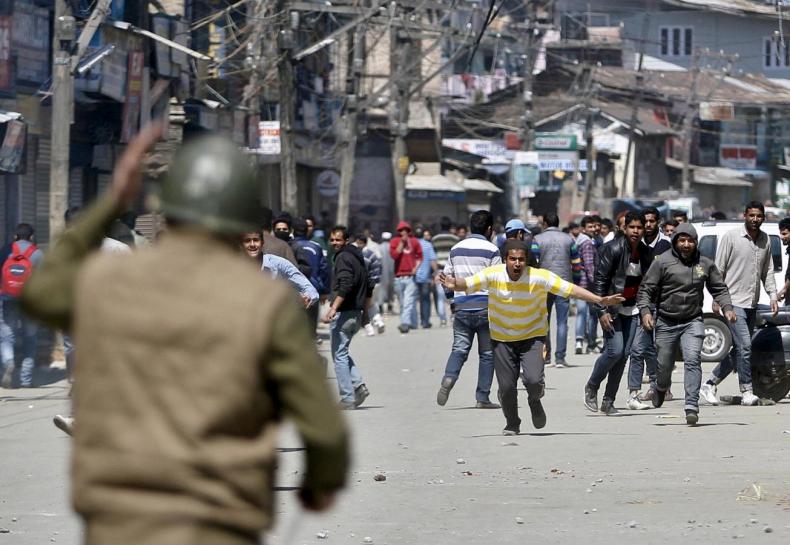 ---
SRINAGAR/ SHOPIAN: Separatist militants ambushed an Indian army and police convoy in Occupied Kashmir on Thursday, killing three soldiers, police said.

The patrol was returning from a village in the Shopian district when it was attacked. Six soldiers were injured, three of whom died later. A civilian woman was also killed after being hit by a stray bullet, police said.

"Three army soldiers succumbed to their injuries at the army hospital in Srinagar," said a police spokesman who asked not to be named.

Area superintendent of police Tahir Saleem told AFP the woman, who lived near where the ambush occurred in Shopian district, was hit by crossfire.

"Around 2 in the night, we woke up after hearing firing on the road," the son of the woman told Reuters Television. "Our mother was sleeping upstairs. The firing stopped after an hour and when we went upstairs, we found our mother dead."

Television footage showed grieving relatives; a red van with shattered windows and shards of glass on the front seat; pools of blood on the ground and bullet marks on the walls of buildings.

Shopian district was one of the main centres of violent protests last year against the killing of a popular separatist  leader Burhan Wani in a gun battle with Indian troops. More than 90 civilians were killed and thousands more injured in clashes between protesters and government forces.

Published in The Express Tribune, February 24th, 2017.
COMMENTS
Comments are moderated and generally will be posted if they are on-topic and not abusive.
For more information, please see our Comments FAQ