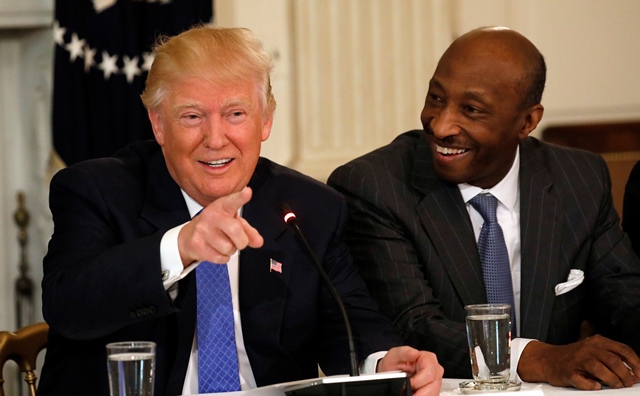 ---
WASHINGTON DC: President Donald Trump told about two dozen chief executives of major U.S. companies on Thursday he plans to bring many millions of jobs back to the United States.

Trump also touched on his plan to deport illegal immigrants to Mexico. Secretary of State Rex Tillerson is in Mexico on what Trump called a "tough trip."

Participants included CEOs from General Electric Co (GE.N), Lockheed Martin Corp (LMT.N), Dow Chemical Co (DOW.N), International Paper Co (IP.N), Ford Motor Co (F.N), United Technologies and Dell Technologies Inc (DVMT.N), Johnson & Johnson (JNJ.N), Corning Inc (GLW.N), Whirlpool, Emerson, Campbell Soup Company, Merck & Co Inc (MRK.N), Caterpillar Inc (CAT.N), 3M Co (MMM.N), U.S. Steel Corp (X.N), Archer Daniels Midland Corp (ADM.N) and General Dynamics Corp (GD.N).

Deportation spat overshadows Trump envoys' talks with angry Mexico

Trump is expected to roll out a series of proposals that could have big ramifications for companies, including a plan to overhaul the tax code that he has promised within weeks and an infrastructure package that was part of his 2016 presidential campaign promises.

A former CEO himself in his first public office, Trump has convened a series of such meetings with business leaders from several industries, including pharmaceutical, automotive and aviation makers.

Trump met last week with a group of CEOs from large retail companies, all of whom oppose a House Republican-backed plan to create a border adjustment tax as part of a tax code overhaul. Several of the CEOs who met Trump on Thursday are part of a coalition that supports the border adjustment tax, which would impose a 20 percent tax on goods that are imported into the country while providing write-offs for goods that are exported.

Reorienting ties: Trump to have 'very different' relations with South Asia

On Thursday, the chief executives each attended one of four breakout sessions with Trump administration economic officials to discuss a variety of topics including conflict minerals regulations, lack of qualified workers, and export regulations for defense products, vocational training and business taxes.

White House spokesman Sean Spicer said on Wednesday, "The president will meet with a group of world-class business leaders to discuss specific action he can take to remove barriers to job creation."

Vice President Mike Pence, Transportation Secretary Elaine Chao, Treasury Secretary Steve Mnuchin and economic aides met with the CEOs.
COMMENTS
Comments are moderated and generally will be posted if they are on-topic and not abusive.
For more information, please see our Comments FAQ