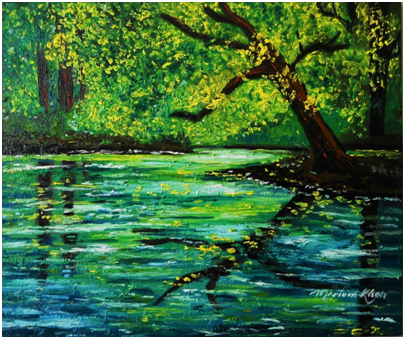 ---
KARACHI: Showing exuberance through their paintings, which seldom happens at gallery exhibitions, the artists thrived while displaying a combination of artworks.
Five contemporary artists displayed their work at Grandeur Art Gallery, located on Zamzama, on Wednesday evening. Fauzia Khan, Muhammad Khubaib, Maryam Irshad, Mariam Khan and Naeem Rind, exhibited some of their finer works done with a brush stroke.
Fauzia Khan, a landscape artist, made her paintings on a wider canvas. In her series, called Roots, she has painted forward flowers, leaves, roots, trees and women and a whirling dervish.




On the other hand, Khubaib's work displayed a collection having acrylic colours and oil paintings, in which he showed the world of nature through his work. "I have been taught the art of drawing and painting by my teachers, such as Kevin Hill from Canada and John Magne Li sondral from Philippines," he told The Express Tribune, while presenting his work for the first time in a group show.

Artist Maryam Irshad believes there are three shapes in universe - squares, triangle and a circle. Whereas, Mariam Khan delves in the artistic realm of miniatures and murals, the former being exhibited at the show. The artist, who is a differently-abled person, has been involved in creating still life compositions and other objectified pieces.
Naeem Rind presented a colourful blend of his figurative work, although earlier he liked to dwell on realism. With his figurative work, he tried to show women who are empowered with a culture that focuses on it.




"I try to give a lot of chance to young artists and people who are not able to exhibit their art work anywhere else," the gallery owner Neshmia Ahmed said, adding that contemporary art is a thriving business for them.
The exhibition will continue at the gallery till the March 8.
COMMENTS
Comments are moderated and generally will be posted if they are on-topic and not abusive.
For more information, please see our Comments FAQ