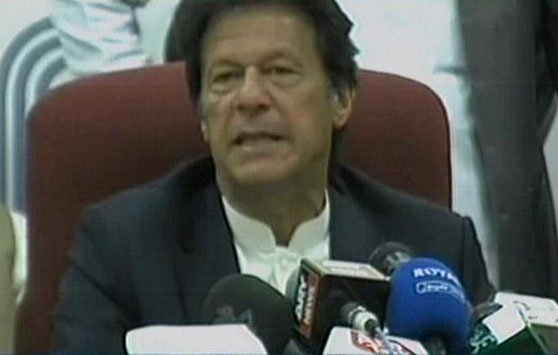 ---
Pakistan Tehreek-s-Insaf (PTI) chairperson Imran Khan has said that military operation should be carried out in the entire country simultaneously.

"No extremist organisation should be allowed to operate in the country," said Imran, while addressing a press conference in Islamabad on Thursday.

Imran termed it condemnable that terrorist attacks were taking place again. "We need to change policies which previously allowed such organisations to operate," he said.

Army mounts new nationwide offensive

"All political parties had mutually signed the National Action Plan (NAP) and it should have been implemented in letter and spirit," Imran said.

Regarding the ongoing Panama Papers hearing at the Supreme Court, Imran said, "This is a defining moment for Pakistan, the country is changing."

On Thursday, the apex court reserved its decision in the case against the Sharif family's alleged offshore wealth in London.

"Pakistan is engaged in this case for the last eight months and the country is now changing for good forever," he remarked.

SC reserves judgment in Panamagate case

Imran went on to add that for the first time a chief executive was held accountable in the case and future rulers will think several times before resorting to corruption or loot and plunder of national wealth. "The case is with the judges now and the result depends on them," he said.

Fata-KP merger

Imran said that the merger of the Federally Administered Tribal Areas with Khyber Pakhtunkhwa will benefit both and is the only viable solution. The pace of work on this proposal, however, is very slow, he said.

Afghanistan

On Pak-Afghan relations, Imran said Afghanistan is now speaking the language of India, which is lamentable for Pakistan. "President Ashraf Ghani has now taken a similar tone as that of his predecessor Hamid Karzai which is a big failure on Pakistan's part [on the diplomatic front]."
COMMENTS (4)
Comments are moderated and generally will be posted if they are on-topic and not abusive.
For more information, please see our Comments FAQ