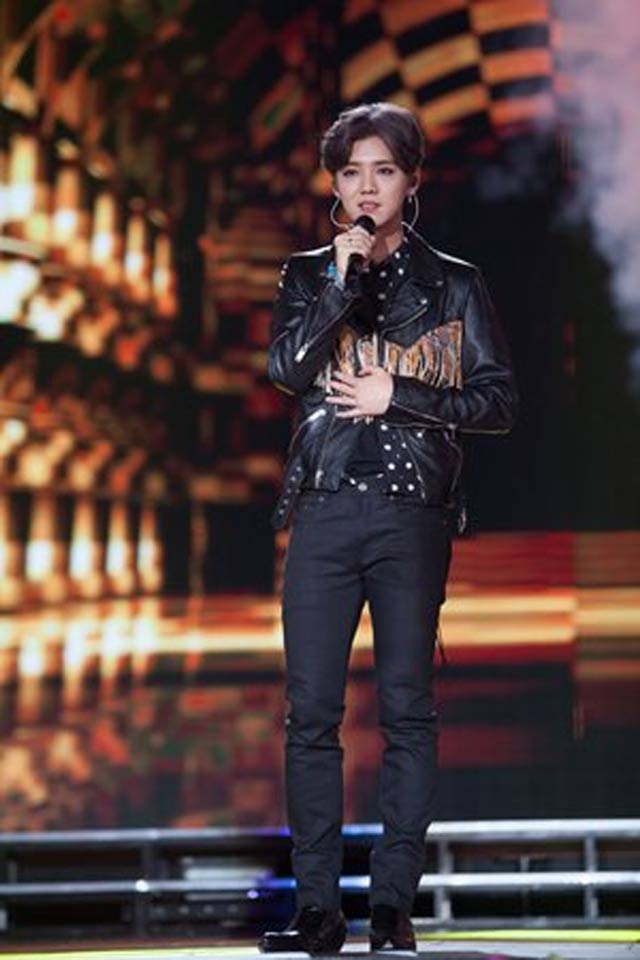 ---
For anyone who wants to get a better understanding of Chinese fandom nowadays, the first group you might want to study are the Lu fans - followers of Chinese singer/actor Lu Han, one of the hottest stars in the country lately.

Dubbed by foreign media as the "Chinese Justin Bieber," the 27-year-old Beijing-born superstar has received an incredibly warm welcome since returning home after ending his contract with the South Korean pop group EXO in 2014.

Is Selena discussing past flame Justin Bieber in new track?

Recently he completed his debut show during the China Central Television Spring Festival Gala on January 27 and was awarded a 2016 Figure of the Year award by the China News Service along with big names such as American-Chinese physicist Chen-Ning Yang.

It's hard for anyone living in China to ignore the startling online figures involving Lu and his fans - a post of his on Sina Weibo that had 100,252,605 comments was recognized by the Guinness Book of World Records in 2015 as "the most highly commented on Sina Weibo post." A post he made on the eve of the Lantern Festival (February 10) garnered 1.18 million likes and was reposted 1.84 million times.

Moreover, he holds records on many Chinese digital music platforms such as Tencent Music where his 2015 album Reloaded I sold more than 3 million copies. Lu is also at the top of the Star Box-office Chart on nuomi.com, one of the country's largest online ticket-buying platforms, for the 2016 China-Hollywood co-production The Great Wall, in which he plays the warrior Peng Yong.

While some disregard these numbers, calling Lu fans naocanfen (senseless fans), his fan base actually sees supporting their idol as a serious cause.

Dedicated fan base

"These figures are created bit by bit by millions of Lu fans, not individuals who abandon their personal lives to work online or so-called shuijun," said Tian Tian, one of the managers of the Lu Han Bar, a Lu fan club on Chinese forum platform Baidu Tieba. In China, shuijun, or "water army," refers to people who are paid to post messages online to increase a target's online influence.

"Most of us are rational people who understand where the boundary between star-chasing and our personal lives lies," the 27-year-old woman, also a Lu fan for the past four years, told the Global Times on Monday.

With 3.25 million registered members, the Lu Han Bar is probably the country's largest Lu fan club. It encompasses not only online platforms, but also 33 offline branch clubs in China and other countries and regions including the US and Australia. The fan club has a total of 300 managers.

Every morning, hundreds of thousands of members flood the online Lu Han Bar to sign-in and share news about Lu. It is "very much like disciples carrying out their regular morning prayer," describes GQ China in an in-depth 2015 report on Lu fans.

For Tian, her day as club manager starts by making a daily post in which fans can greet each other and then she moves on to browsing through posts about Lu on the platform to screen out "unqualified" ones, while others in the club's working group update the star's schedule, music, videos and pictures with the latest happenings.

Justin Bieber attacked in a night club

"We don't get paid. We do this purely out of our love for Lu," said Tian. "We use our free time to manage the club, so there are no such things as full-time or part-time jobs here."

According to Tian, the club's only income is from self-made items related to the star, which "are sold at the lowest price possible to fans." Any money earned from these sales are only used for activities related to their idol. Additionally, the group has been carrying out charity work in Lu's name for years.

"This started about two years ago when Lu came back to China and started to have more freedom to interact with fans," said Tian. "Lu asked us to donate money to charity instead of sending him birthday gifts every year."

Healthy relationship

The Great Wall, which released in China on December 6, 2016 and debuted in Europe in January, currently holds a 5/10 on Chinese media review platform Douban.

The film opens up in the US, UK and South America on Friday. Some netizens have started wondering if die-hard Lu fans in these countries will end up artificially pushing the film's rating up to an 8/10 on the review platform.

"We've told fans to go rate the film based on their true feelings after watching it, instead of deliberately giving it a false rating on Douban," said Tian.

This viewpoint reflects the fan group's preference for a positive and healthy relationship with their idol.

Which isn't to say there aren't fans who go overboard. However, "crazy" fans who go to extremes such as ambushing the star at home or readily resorting to Internet bullying when they see anyone badmouth the idol online are seen as "illegitimate fans" by the group.

Lu fans range in age from primary school students to senior citizens, according to Tian. With such a large group, Tian thinks it is only natural that there will be some extremist fans among the millions of healthy fans.

"Many Lu fans I know were born after 1995," Mu Tou, a 25-year-old Lu fan, told the Global Times. "And it's true that many of them are just kids and sometimes are rude."

In the eyes of many of Lu's fans, Lu is much more than just a handsome-looking star who is good natured and humble. He is polite, "sweet to fans," hardworking and "sometimes like a big boy who is a bit awkward with words."

"For me, he is an example to live up to," said Mu. "He always inspires me to become a person like him - a positive and considerate person who never whines about life."

This article originally appeared on Global Times.
COMMENTS
Comments are moderated and generally will be posted if they are on-topic and not abusive.
For more information, please see our Comments FAQ