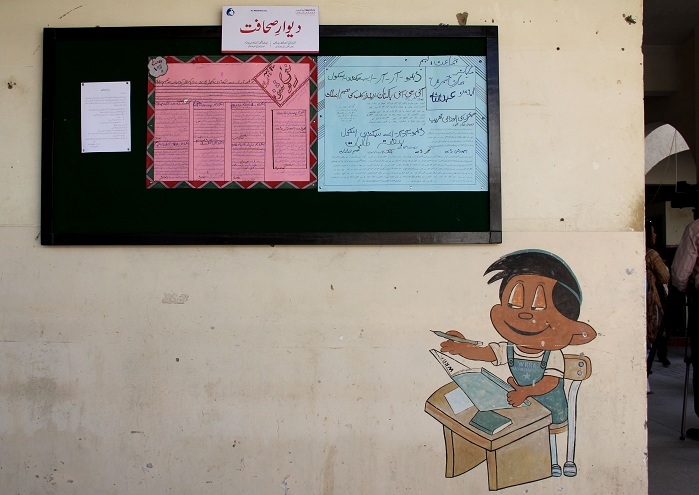 ---
KARACHI: A group of students in Shah Faisal Colony hope to bring about a change in their society through their own kind of journalism.

Just recently, the students of class eight and nine at Women Refugee Rehabilitation Association (WRRA) Secondary School decided to come up with monthly newspapers and, on Tuesday, they successfully took out their very first edition.

Besides monthly newspapers, the students have also set up a 'Dewar-e-Sahafat' [Wall of Journalism] in the premises of their school where they exhibit their work related to journalism.




The main focus of the projects, according to the school officials, was to instil confidence in students through reading and writing while inspiring them to be creative when expressing their views.

Gender equality: UN sponsored cricket day held for girls

The project was born when ICI Pakistan Limited launched a reading project by the name of 'Readers Club' at the school to promote reading habits among students.

The project that once started as a club for avid readers has now transformed into a wall and now students are asked to make scrapbooks from different newspapers and magazines on their preferred topics. They also name them as per their wishes.




"The idea of a scrapbook later transformed into proper newspaper stories and magazines," said Abdul Ghani, a CSR coordinator at ICI Pakistan.

According to Ghani, the students were initially asked to compile stories related to their school and use a chart paper as their newspaper.

The stories were later checked by individual class teachers while all the other responsibilities were handled by the students in teams.

Learning with fun: Alif Ailaan brings magic of science to govt school

Students worked in different teams on the very first editions of their newspapers and even wrote write-ups about school events.

"We worked in teams and reported on the events that happened in the school," said Simran Sheikh, head of the class-eight team with the newspaper called 'Nayi Roshni'.

Our first edition contained stories on the students' week that was held at our school, she added.




Syed Abdullah, a student of class nine, worked with four members of his team and produced another newspaper called 'Hamari Khabrein'.

"Our main focus was to write well and develop our reading and writing skills," said Abdullah.

"The representatives of ICI approached us some six months ago with the idea and we immediately grabbed it as [we were sure] it will help our children improve their skills," said Riffat Aslam, the principal of WRRA Secondary School.

However, she maintained that since the school is being run by the WRRA, they cannot conduct such activities regularly.

"We always try to organise such programmes for our students to encourage them but resources play a major role here," Aslam added.