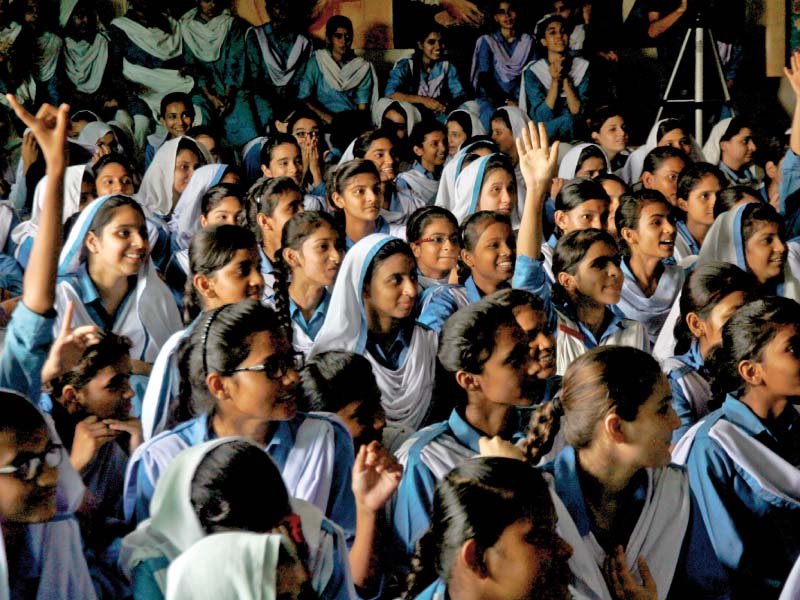 ---
KARACHI: Schools should form their own science clubs, where students can get together to conduct fun experiments under the guidance of their teachers and engage in learning more about science through activities, said non-governmental organisation Zindagi Trust's representative Sana Kazmi.

Kazmi said this during Pakistan Science Club's (PSC) science activity event, organised by Shehzad Roy's Zindagi Trust, in collaboration with Alif Ailaan. The event, based on a Alif Ailaan's campaign of science-based activities, was held with the aim to encourage and involve school-going children in science activities.

More than 300 students of class seven to Matric of Khatoon-e-Pakistan Government Girls School took part in the activities organised at their school, with the hope to learn something interesting related to science. "I am excited to see what they will teach us," said a student from class seven, before the programme began.

Abdul Rauf from the PSC, who was conducting the experiments, was also involving students in the activities. He explained to the students the hidden science behind the reactions in experiments that he conducted. The event was divided into two parts: senior students were involved in learning and understanding science through fun science experiments that he referred to as 'magic' while juniors were involved in activities through project making.

While explaining to students how sound travels, Rauf showed an experiment by filling a plastic bucket with gas that was covered with a plastic sheet and a small hole could be seen at the back of the bucket. "When you tap the plastic sheet, gas can be seen coming out of the hole," Rauf said.

Similarly, to explain the reaction of acid and rubber, Rauf burst a balloon by dropping two drops of lemon juice on it. He explained that lemon has citric acid and balloon is made of rubber, which reacts with the balloon and pops it. Referring to why a balloon does not burst when pierced with a pin in the middle, he said that its centre of the balloons are thicker and have more air molecules.

Rauf picked students from the audience to engage them in experiments. One such activity was that he asked students to balance a stick with one finger, which was attached by a weight from one corner. Explaining the science behind the balance, he said that if there is weight on one end, the friction on that side is more compared to the lighter side.

Published in The Express Tribune, August 28th, 2016.
COMMENTS
Comments are moderated and generally will be posted if they are on-topic and not abusive.
For more information, please see our Comments FAQ