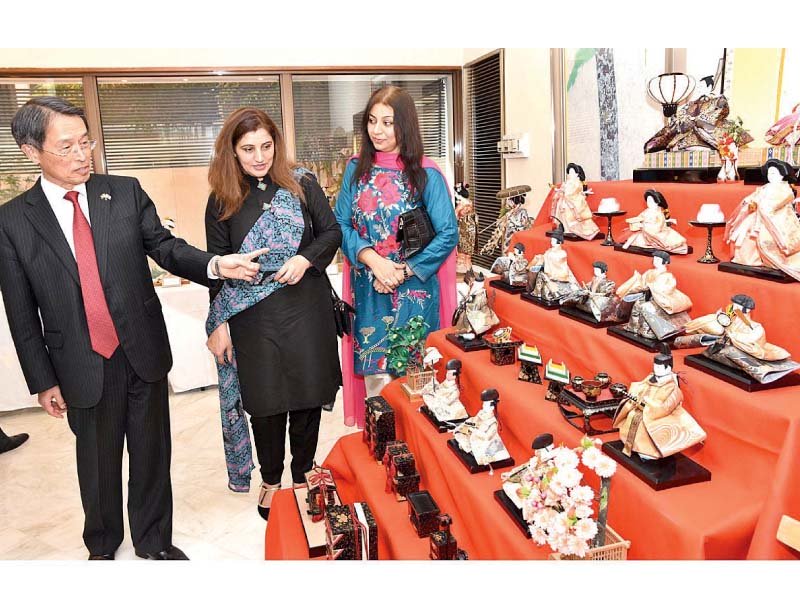 ---
Block printing is among one of the earliest methods of printing invented in the world and continues to be used in a lot of places, including parts of Pakistan. But there few cultures around the world which mastered it enough to turn it into an art-form.

A small exhibition of Japan's traditional woodblock prints and dolls was held at the home of Japanese Ambassador Takashi Kurai on Monday.

The exhibition, held in collaboration with the Lahore Arts Foundation Trust and curated by artist Sabah Hussain, was held to introduce traditional Japanese woodblock prints and dolls to the people in Islamabad.



"Woodblock printing in Japan started during the Aska Period (593-710 CE) to mainly introduce and spread Buddhism text and painting," Kurai said while welcoming a select audience to the exhibition.

Japanese mayor expresses interest in deepening bilateral ties

"However Japanese woodblock printing flourished and developed into art and amusement form during the Edo period in early seventeenth century (1603-1868), and today this printing technique is used all over the world," he said, while explaining that the basic difference between western and Japanese block printing was the use of water-based ink.

Kurai further revealed that this was not an exhibition in isolation, rather it followed from a similar cooperation which took place last year. In October 2016, the Japanese Embassy worked with the COMSATS University in Islamabad to organise a workshop on Japanese woodblock printing. That workshop was conducted by Japanese Professor Tatsuya Noda along with Dr Shahida Mansoor, an associate professor at COMSATS who has completed a PhD in woodblock printing in Japan.

Tourism sector: Japan to launch youth exchange programme

"As you might know that this year marks the 65th anniversary of diplomatic relations between Japan and Pakistan," the Japanese ambassador said, adding, "We hope to further extend this friendship and to promote and strengthen the cultural ties between Japan and Pakistan."

He also commended Hussain's work in curating the exhibition, noting that she too had completed postgraduate studies from the City Arts College in Kyoto, where she also received a number of awards.

Published in The Express Tribune, February 21st, 2017.