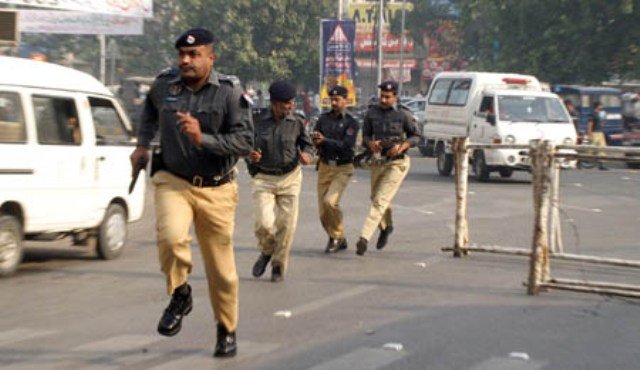 ---
LAHORE: In a bid to implement policy decisions of the Punjab apex committee to counter the recent wave of terrorism, Punjab police chief has ordered thorough checks of all vehicles, motorcycles and people crossing interprovincial check posts.

These instructions came on the coattails of the Punjab government seeking assistance of Rangers to curb terrorism. On Sunday, the apex committee had sought the help of the paramilitary force after sensitive information was shared with the meeting's participants.

Rangers to assist Punjab Police in counterterrorism operations, security huddle decides

On Monday, Mushtaq Ahmad Sukhera urged the law enforcers to pay special attention to Attock, Mianwali, Bhakkar and Rawalpindi.

Sukhera chaired a meeting at the Central Police Office, where Punjab AIGP Operations and Investigation Capt (retd) Arif Nawaz, AIGP PHP Amjad Javed Saleemi, AIGP Welfare and Finance Shoaib Dastagir, DIG Operations Aamir Zulfiqar Khan, DIG IT Shahid Hanif, AIG Development Kamran Khan, AIG Operations Waqar Abbasi, AIG Logistics Humayun Bashir Tarar, AIG Monitoring Abdul Ghaffar Qaisrani and AIG Complaints Syed Khurram Ali were also present.

While briefing the meeting, the IGP ordered prompt action against people who are unable to prove their identity. He added the daily briefing of staff working in remote areas must be ensured.

Officials serving at all such check posts must be sensitised over the importance of their duty and be made to realise that even slight negligence could cause a massive disaster.

Giving orders to AIG Complaints, the IGP said strict action would be taken against DSPs and SHOs who did not contact complainants of 8787 in a timely manner.

He added action should also be taken against officers who send their assistants or readers instead of personally contacting a complainant.

He directed AIG Complaints to personally monitor the progress of complaints received through 8787 on a daily basis and produce a weekly performance report.

92 suspects rounded up across Punjab

Additional IGP PHP Amjad Javed Saleemi shared that 31 stolen vehicles and motorcycles were recovered during checking at interprovincial check-posts from the period of January 1 to February 19.

He added that one most wanted criminal was also arrested from check posts at Mianwali.

Saleemi added these check posts were being monitored online at the Central Police Office where the performance of officials and their behavior with the public is reviewed. Saleemi claimed there were few complaints against personnel deployed at these check posts.

The IGP directed AIG monitoring to take a daily report over the performance of personnel deployed at these check-posts and submit a fortnightly report.

Sukhera said officials performing beyond expectations should be encouraged on every level.

At least 15 people were killed in a suicide blast at Charing Cross on Mall Road in Lahore on February 13.

On Friday, Ali Raza, one of the protesters injured as a result of the blast, breathed his last and became the 15th fatality. As many as 13 people died on the spot, while of others were injured.

Published in The Express Tribune, February 21st, 2017.