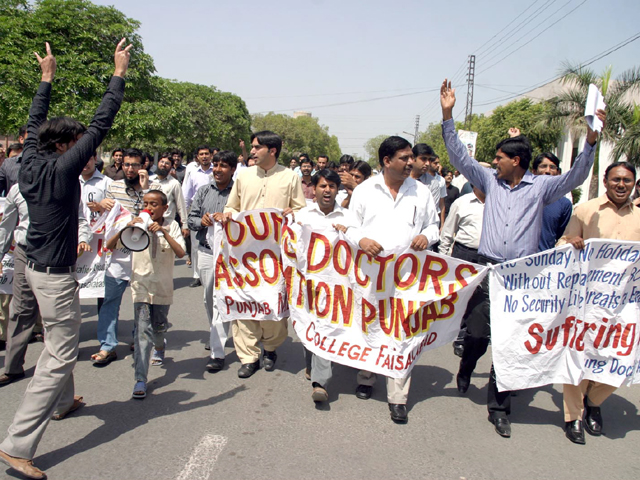 ---
KARACHI: The postgraduate doctors at Civil Hospital, Karachi, have threatened to boycott out-patient department duties from Wednesday onwards in protest.

While staging a peaceful demonstration outside Dow Medical College on Monday, hundreds of doctors demanded the release of increased stipend of Rs65,000, which was sanctioned in September last year by Sindh government. The doctors said that they have been deprived with a previous stipend of Rs42,500. They claimed that all other postgraduate doctors working in various hospitals across the entire province are getting increased stipend since the approval in September.

Civil Hospital, Karachi, young doctors association president Dr Waris told The Express Tribune that they won't allow anyone to carryout discriminatory policies with the doctors of any particular institute. According to him, there are more than 500 postgraduate doctors in Civil Hospital, Karachi. He maintained that despite reminding Sindh chief minister, Dow University vice-chancellor and health officials, their demand has been falling on deaf ears.

"This discrimination is due to the negligence of the government," he added. According to him, the doctors have been compelled by the authorities to take such actions in protest, due to which the patients may suffer. He added that they have been deprived due to alleged lack of funds.

"Don't we have a life and aren't doctors humans, who perform 36-hour long duties," said a protesting postgraduate Dr Mehwish Butt. An office bearer of young doctors association, Dr Lal Rehman, urged that the doctors have been demanding for their genuine right since past six months but the authorities are not interested in resolving their issue. However, the postgraduate doctors in other provinces are getting much higher stipends than Sindh, he claimed. On the other hand, the doctors here are still battling for release of their stipends, he added.

Dow university vice-chancellor Dr Masood Hameed Khan was not available for comments. Another official of the university, on condition of anonymity, said that the Sindh government has not released funds to the university according to the raised stipends for postgraduate trainees.

Published in The Express Tribune, February 21st, 2017.
COMMENTS
Comments are moderated and generally will be posted if they are on-topic and not abusive.
For more information, please see our Comments FAQ