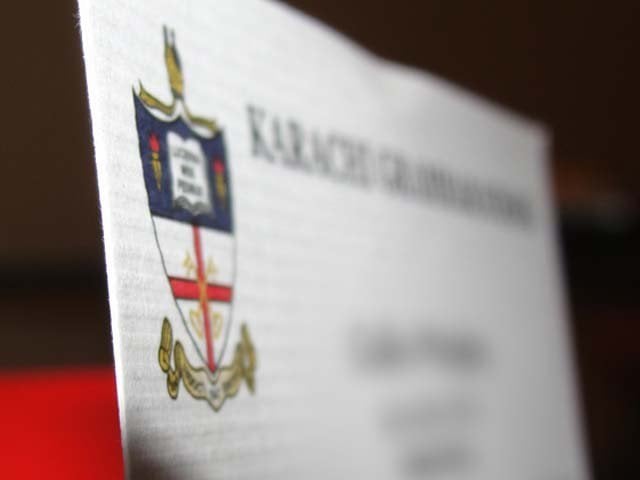 ---
KARACHI: Karachi Grammar School (KGS) dominated the list of high achievers as Cambridge International Examinations (CIE) announced the winners of their learners' awards.

The winners for five categories — Top in Pakistan, Best Across Award, Top in Sindh and Balochistan, High Achievement and Top in the World — were chosen from the students who took the exams in June 2016.

Cambridge results: Record setting year for Pakistanis

Over 85 learners in Sindh and Balochistan will receive awards for exceptional performance in the Cambridge examinations, including 19 learners who achieved the highest marks in the world and 30 who attained the highest marks in Pakistan.

From the students who received awards for their exceptional performance, 29 awards in all categories were bagged by students from KGS, followed by Beaconhouse School System (BSS), St Patrick's High School, Foundation Public School, The Generation's School and The Lyceum School.

Around 11 students received highest marks in Pakistan in a single subject, while 23 Best Across awards were handed out to the students from Sindh and Balochistan. Three students were also awarded high achievers awards, all of whom were from KGS.

The City School won two awards, while BSS, St Patrick's and The Generation's School won four each.

KGS tops list of outstanding Cambridge learners

CIE Pakistan's country director Uzma Yousuf said that she is very proud of the achievements of Cambridge students. "I would also like to congratulate all the teachers who have worked so hard to help you achieve such success, and your parents who supported you," she said, in statement. Cambridge qualifications open up so many opportunities in life, she said, adding that she wished all the best to the students as they take their next steps.

Published in The Express Tribune, February 21st, 2017.
COMMENTS (9)
Comments are moderated and generally will be posted if they are on-topic and not abusive.
For more information, please see our Comments FAQ