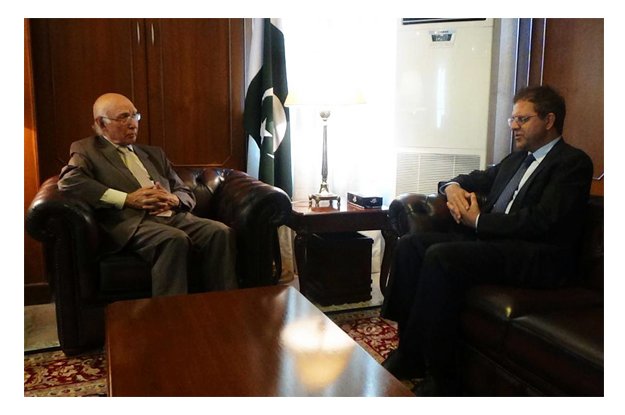 ---
ISLAMABAD: Afghanistan has agreed to address Pakistan's concerns over the presence of 'terrorist sanctuaries' across the border, a development that may pave the way for de-escalation of tensions between the two neighbours, officials said on Monday.

The assurance was given by Afghan Ambassador to Pakistan Dr Omar Zakhilwal during a meeting with Prime Minister's Adviser on Foreign Affairs Sartaj Aziz and senior military officials in Islamabad.

Zakhilwal flew to Kabul on the weekend for consultations following the recent terrorist attacks across Pakistan, including the suicide attack in Sehwan, which had links with Afghanistan.



Within hours of the attack at Lal Shahbaz Qalandar's shrine in the Sindh town, senior Afghan diplomats were summoned to the General Headquarters (GHQ), and given a list of 76 terrorists hiding in Afghanistan.

A Foreign Office official familiar with the meetings told The Express Tribune that discussions were held in 'constructive and positive manner' and Afghanistan assured it would address Pakistan's concerns on cross-border terrorism.

The flurry of overt and covert meetings prompted a high-level security huddle at the GHQ as well, where the overall security situation along the border was reviewed.

Reports suggested Pakistan Army reinforced security along the Afghan border fearing that the continuing tension might lead to a serious situation between the two neighbours.

However, army chief General Qamar Javed Bajwa, who presided over the security meeting in Rawalpindi, clarified that enhanced security arrangements at Pak-Afghan border were meant to fight all terrorists, regardless of their affiliation.

Heavy artillery moved towards Pak-Afghan border

"Pakistan and Afghanistan have fought against terrorism and shall continue this effort together," Gen Qamar was quoted as saying by the Inter-Services Public Relations (ISPR).

The army chief directed for effective border coordination and cooperation with Afghan security forces to prevent cross-border movement of terrorists, including all types of illegal movement.

He also welcomed recent proposals from Afghan authorities to take forward the mutual coordination for result-oriented efforts against terrorism.

The army chief's conciliatory tone was in contrast to the hard-hitting statement issued after the Thursday's Sehwan attack, which said Pakistan would show no more restraint to anyone and blood of Pakistani nation would be avenged immediately.

Prime Minister Nawaz Sharif also ordered security forces to eliminate terrorists 'wherever they were'.

Although there was no official confirmation, Pakistan has since pounded the hideouts of Jumaatul Ahrar (JuA) across the border and killed scores of terrorists.

Army decimates four Jamaatul Ahrar camps

The unannounced action by Pakistan drew strong reaction from across the border with Kabul calling it as an act of aggression, vowing to use all available means to stop shelling from Pakistan.

Security officials, however, clarified Pakistan had no intention to violate the sovereignty of Afghanistan. "We have never targetted the Afghan army or the Afghan people. We carried out attacks in an area where Afghan authorities have no control," the official explained.

Kabul reacts angrily to targeting of TTP, JuA camps on Afghan soil

Since the sudden surge in terrorist attacks including the one in Sehwan, Pakistan has been exerting renewed pressure on Afghanistan to take decisive action against the hideout of banned Tehreek-e-Taliban Pakistan,  and its breakaway faction, JuA, which was behind the recent terrorist attacks.

In a statement, ambassador Zakhilwal confirmed he had a 'positive meeting' with Sartaj Aziz and 'constructive talks' with officials at the GHQ after his return from Kabul on Monday.

"As a result I expect de-escalation of the current tension and the creation of a more positive environment for responding to each other's concerns and grievances in a cooperative manner. We have agreed tentatively on a path forward," the ambassador added.

List of 32 'terrorist training centres'

Dr Zakhilwal also claimed to have passed on to the Foreign Office and GHQ a list of 32 'terrorist training centres', which according to him were operating from Pakistani soil against Afghanistan. Pakistan has been asked for immediate action against such centres, he added.



In a separate statement, Afghan foreign ministry said the letter given to Pakistan includes names of 85 senior members, and leaders of the Taliban, and other terrorist groups including the Haqqani network.

'The initial response from Pakistan authorities was positive and we hope Pakistan takes practical steps in this regard," the statement added.

Kabul is willing to discuss and take responsible actions jointly with Pakistan on the lists and concerns of both sides within the framework of Quadrilateral Coordination Group involving the US and China besides the two neighbours, the Afghan foreign ministry concluded.
COMMENTS (5)
Comments are moderated and generally will be posted if they are on-topic and not abusive.
For more information, please see our Comments FAQ