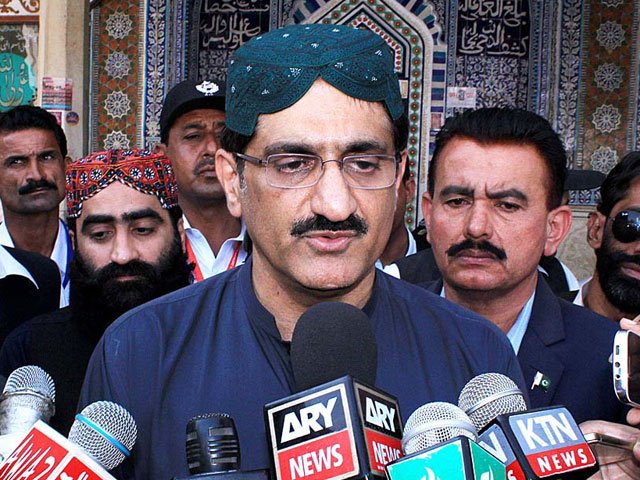 ---
KARACHI: Sindh government will initiate a grand operation against militants and organisations involved in terrorism and sectarian violence in the province, decided a meeting at CM's House on Monday.

"The operation will take place in Shikarpur, Khairpur, Jacoabad, Sukkur, Hyderabad and its adjoining areas as well as across the Sindh-Balochistan border," an official privy to the development told The Express Tribune.

The meeting convened in the wake of Sehwan terrorist attack was informed about the investigation and arrest of facilitators involved. At least 88 people lost their lives when a bomber struck the shrine swarmed with devotees on February 16.

Protection measures: Murad Ali Shah visits Bhit Shah, Sehwan

The meeting was apprised that some madrassa (seminaries) have become a training camp for terrorists and criminals, with some of them operating in Karachi. "We have sent a list of 93 such seminaries to interior ministry to put them in the watch list," Chief Minister Murad Ali Shah informed the participants.

During the meeting, Pakistan People's Party (PPP) co-chairman Asif Ali Zardari clarified that his party is not against seminaries, but government must take action against the ones that indulge in terrorism and activities of sectarian nature.

Zardari also advised the CM to approach the federal government suggesting action against illegal immigrants, especially Afghans, residing in Karachi and other districts of Sindh.

Those fuelling anger over Sehwan tragedy accomplices of terrorists: Sindh CM

Sindh IG, chief secretary, Counter Terrorism Department AIG and officials of police and intelligence agencies attended the meeting.

On Sunday, Sindh Chief Minister Murad Ali Shah said that those inciting violence were tantamount to being the accomplices of terrorists.

The incident, Shah assured, is being investigated from all angles and with the help of close circuit television (CCTV) cameras, as law enforcement agencies make strenuous efforts to nab the culprits.
COMMENTS (2)
Comments are moderated and generally will be posted if they are on-topic and not abusive.
For more information, please see our Comments FAQ