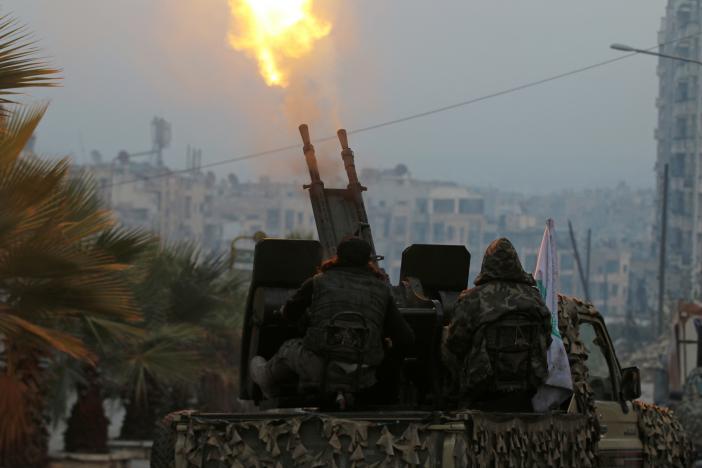 ---
Syrian government forces Monday escalated their bombing campaign around Damascus, raining shells down on rebel territory and sending out a "bloody message" just days before renewed peace talks in Geneva.

Representatives from the opposition and of President Bashar al-Assad's regime are to head to Switzerland on Thursday for another attempt to end their country's brutal six-year war.

But regime forces Monday escalated their bombing of the edges of Syria's capital, according to the Syrian Observatory for Human Rights and activists on the ground.

Recruitment for Syria: Interior ministry bans sectarian outfit

"Regime air strikes killed four people and wounded another 15 in escalation on Barzeh," a northern rebel-held district of Damascus, the Observatory said.

The Britain-based monitor said rockets also hit the northeastern opposition-controlled neighbourhood of Qabun overnight and into Monday morning.

Rebels and regime forces reached a local ceasefire deal in Qabun in 2014, but violence has built up in the neighbourhood since last week.

At least 16 people were killed on Saturday in government rocket fire on a funeral in Qabun, according to the Observatory.

"This is the third day of bombardment - rockets, artillery, mortars, and air strikes," said media activist Hamza Abbas, speaking to AFP via internet from Qabun, where he said he could hear non-stop shelling.

"The bombardment is targeting three neighbourhoods - Qabun, Barzeh, and Tishreen," Abbas said.

A Syrian military source contacted by AFP declined to comment on the operations.

Syria's opposition on Sunday lambasted the government's renewed bombing campaign around the capital, calling it a "bloody message" aimed at sabotaging the peace talks.

The High Negotiations Committee (HNC) said the attacks near Damascus and elsewhere across the country were "obstructing the efforts aimed at a political transition in Syria".

"It is a bloody message from a criminal regime just a few days ahead of political negotiations in Geneva that demonstrates its rejection of any political solution," the HNC said in an online statement.

The HNC - formed in December 2015 and which has emerged as the leading umbrella group for Syria's opposition factions - has a new chief opposition negotiator for the Geneva talks, lawyer Mohammed Sabra.

Sabra replaces Mohamed Alloush of the Army of Islam (Jaish al-Islam), a powerful rebel faction headquartered in the opposition bastion of Eastern Ghouta.

Eastern Ghouta - which has faced a blistering army offensive in recent months - lies neat to the opposition-controlled districts of Damascus being increasingly targeted by the government.

Assad's regime is "bitterly determined to rid itself of the insurgent enclave, one way or another," wrote analyst Aron Lund in a post for the Carnegie Endowment's Middle East Center.

"However weakened and contained, Eastern Ghouta remains a dagger pointed at the heart of Assad's regime and it ties down many thousands of soldiers," Lund said.

Overrunning the area could have a significant impact on peace talks "since no opposition delegation would be of much value" without the Army of Islam, Lund added.

The talks in Switzerland are the fourth round of UN-hosted peace negotiations.

Since the last round in April 2016, rebels have lost their stronghold in east Aleppo and seen a new partnership form between their main ally Turkey and government backer Russia.

Putin says Aleppo recapture 'very important' for Syria

Ankara and Moscow teamed up in December to secure a truce deal between rebel groups and government forces, but the ceasefire is barely holding across Syria.

Along with regime ally Iran, the two powers also hosted two rounds of talks between government officials and prominent rebels in the Kazakh capital.

More than 310,000 people have been killed and millions forced to flee their homes since Syria's conflict broke out in 2011 with protests against Assad's rule.