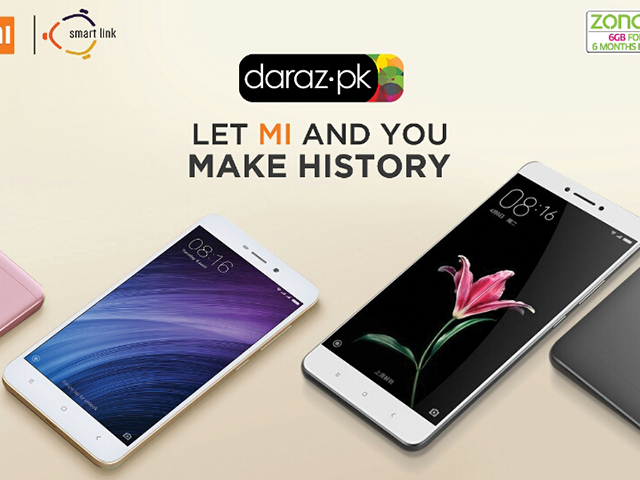 ---
Mi Max, Redmi 4A and Redmi Note 4 are set to disrupt the Pakistan market by offering high quality performance at incredible prices

All three devices to ship with the latest version of MIUI, Xiaomi's Android-based interface

ISLAMABAD, Pakistan, 20th February, 2017 — Smart Link Technologies announced today that it is partnering with Daraz.pk as an online partner and Zong as the leading 4G network to distribute the products of leading technology company Xiaomi in Pakistan.  This is Xiaomi's first official entry in the country through a distribution partnership.

At the event, Jack Yung, Sales Director of South Asia, Xiaomi announced that three smartphones including Mi Max, Redmi Note 4 and Redmi 4A together with its IOT products such as Mi Band 2 will be available in Pakistan right after the event.

Founded in 2010, Xiaomi's CEO Lei Jun and other co-founders started the company based on the vision "innovation for everyone". It first launched its Android-based interface MIUI in 2010, and its very first smartphone Mi 1 the following year. Renowned for its user-centric, innovation driven philosophy, Xiaomi is continuing its commitment to expand its outreach globally. In Pakistan, Zong is the only cellular network to have entered a partnership with Xiaomi, geared to give considerable support to develop the 4G ecosystem in Pakistan.

Mi Max and Mi Band 2 are now live on Daraz.pk. Redmi 4A will be live on February 25 and Redmi Note 4 on March 5. In addition to speedy and safe deliveries by Daraz, Smart Link Technologies will provide fans with attractive warranty conditions. Zong is also offering an attractive 4G offer on Xiaomi smartphones of 6 GB data for 6 months.



Daraz CEO, Bjarke Mikkelsen commented about the upcoming venture: "We at Daraz, in partnership with Smart Link, are proud to serve as exclusive online partner for this exciting launch that will bring together Pakistan's largest online store and Asia's most innovative smartphone brand in what promises to be a complementary relationship. I believe this partnership will yield multiple benefits to both parties with opportunities for cross-pollination and convergence. Daraz welcomes Xiaomi to Pakistan, in our shared mission to extend our global footprint."

Redmi Note 4 provides flagship-class performance, with a full-HD display and a battery that will last over an entire day. Powered by a Qualcomm Snapdragon 625 processor, Redmi Note 4 delivers fast and seamless performance. Snapdragon 625 is the first chipset in its class to use 14nm FinFET technology, which is substantially more power-efficient than processors based on 28nm technology.

Redmi 4A is powered by the Qualcomm Snapdragon 425 processor, and comes with two SIM slots and 4G support. Even though Redmi 4A weighs just 131.5g, it comes with a large 3120mAh battery with 7-day standby time.

Mi Max comes with a 6.44-inch supersized screen that makes it perfect for watching movies or TV shows on the go. It also has a large 4850mAh battery for long viewing sessions. Based on internal tests, Mi Max can support up to 14 hours of streaming video (via Wi-Fi) in a single charge, thanks to the massive battery and optimisations found in MIUI 8.



Key specifications of Redmi 4A:



Slim and light at 8.45mm / 131.5g


3120mAh battery; Up to 7 days standby


1.4GHz Qualcomm Snapdragon 425 processor


2GB RAM; 16GB built-in storage


Expandable storage supports up to 128GB


5-inch HD (1280 x 720) display


13MP main camera; 5MP front-facing camera


Supports dual-SIM, VoLTE 4G, 3G, Wi-Fi


Key specifications of Redmi Note 4:


Qualcomm Snapdragon 625 with 14nm FinFET technology (Octa-core 2.0GHz)


4100mAh high-density battery


13MP CMOS camera with PDAF, 5MP front camera


Premium metal body, Anodised high-gloss aluminium lines


5.5-inch Full HD display, dual SIM (Nano- and Micro-SIM)


LTE and VoLTE support


Up to 4GB RAM + 64GB Flash


Up to 128GB microSD expandable storage


Rear fingerprint sensor


IR blaster


Key specifications of Mi Max:


44-inch supersized screen, perfect for watching movies and TV shows on the go


Supports up to 14 hours of streaming videos via Wi-Fi with large 4850mAh battery


Surprisingly light at 203g and extremely thin at 7.5mm


Big on performance with one of the fastest mobile processors in the market, Qualcomm Snapdragon 650/652 processor





About Xiaomi

Xiaomi was founded in 2010 by serial entrepreneur Lei Jun based on the vision "innovation for everyone". We believe that high-quality products built with cutting-edge technology should be made accessible to everyone. We create remarkable hardware, software, and Internet services for and with the help of our Mi fans. We incorporate their feedback into our product range, which currently includes Mi and Redmi smartphones, Mi TVs and set-top boxes, Mi routers, and Mi Ecosystem products including smart home products, wearables and other accessories. With more than 70 million handsets sold in 2015, Xiaomi is expanding its footprint across the world to become a global brand.