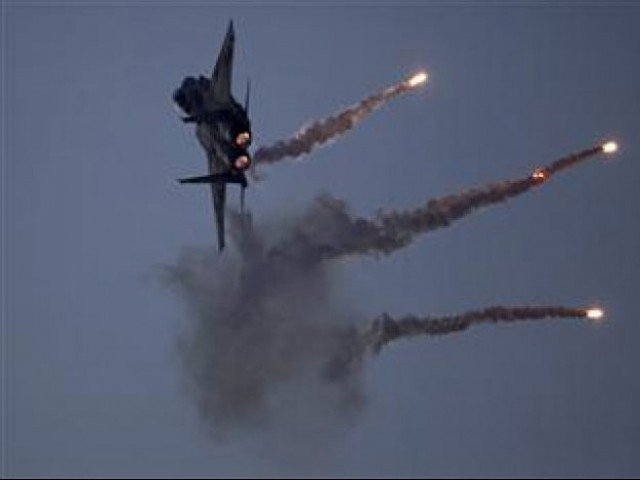 ---
PESHAWAR/ ISLAMABAD: Fighter jets of the Pakistan Air Force bombed a number of terrorists who were trying to regroup in the North Waziristan Agency, the military's media wing said late Sunday night.

According to Inter-Services Public Relations (ISPR), the military's media arm, the terrorists were trying to regroup in the Wucha Bibi area of the agency when they were targeted.

"Terrorists tried to regroup in Wucha Bibi, a border area in North Wazirstan Agency. Targeted by PAF. Hideout destroyed, terrorists inside killed," read the one-line statement issued by ISPR. It made no mention of the exact number of terrorists killed or militant hideouts destroyed in the air strikes.

Pakistan's military had launched Operation Zarb-e-Azb in June 2014 to purge all terrorists from the North Waziristan Agency. The operation led to an overall improvement in the country's security as terrorists attacks dropped to their lowest level since 2008.

While the operation was in full swing, Islamabad repeatedly urged Kabul to ensure terrorists trying to evade the Pakistani military action were unable to regroup in Afghanistan. Despite the entreaties, Kabul did not eliminate terrorist safe havens on Afghan territory, allowing Tehreek-e-Taliban Pakistan and its splinter group Jamaatul Ahrar (JuA) to carry out attacks in Pakistan.

More than a 100 lives were lost in the most recent of these attacks which prompted Pakistani forces to launch a nationwide crackdown against terrorists and their facilitators.

Over 100 militants have been killed in the country-wide raids. In particular, Pakistani forces have shelled camps of Tehreek-e-Taliban Pakistan (TTP) and its splinter group Jamaatul Ahrar (JuA). Nearly a dozen training camps and hideouts of the terrorist groups have been destroyed and over a dozen terrorists — including a top trainer of suicide bombers — were killed in two days of artillery shelling.

11 militants killed in Kurram encounter

Earlier on Sunday, at least 11 suspected militants were killed in an encounter with security forces in Kurram Agency, officials said.

According to security sources, the suspects were travelling from neighbouring Afghanistan and entered Kurram through Khyber Agency when they were intercepted by a security convoy. Two security forces personnel were also injured during the cross-fire, security sources told The Express Tribune on Sunday.

Meanwhile, nearly 50 suspected militants and criminals were rounded up in Karachi on Sunday as law enforcers stepped up raids in the wake of the recent wave of terrorism that has swept the country.

On the basis of intelligence, police officials conducted a door-to-door operation in the Pipri locality of the metropolis, arresting as many 30 suspects – some with weapons in their possession.

Meanwhile, another contingent of law enforcers carried out a search operation in Karachi's Shireen Jinnah Colony and detained close to 20 suspects. All suspects have been moved to an undisclosed location. [WITH ADDITIONAL REPORTING BY OUR CORRESPONDENT IN KARACHI]

Published in The Express Tribune, February 20th, 2017.
COMMENTS (1)
Comments are moderated and generally will be posted if they are on-topic and not abusive.
For more information, please see our Comments FAQ