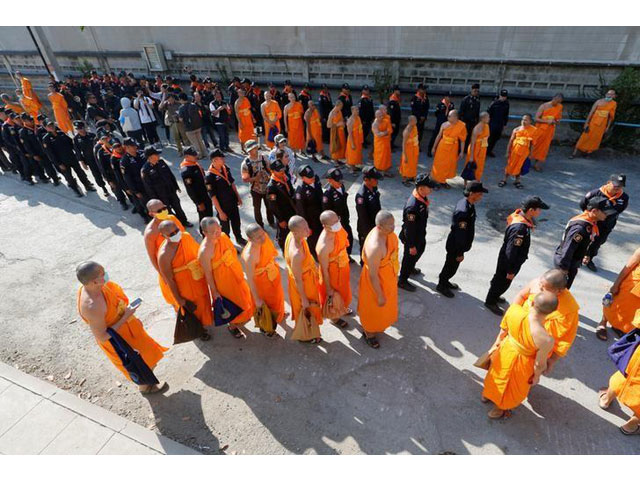 ---
BANGKOK: Thai police ordered thousands of worshippers to leave the country's biggest Buddhist temple on Sunday so it can intensify its search for its former abbot, who is wanted on money-laundering charges.

Thailand's ruling junta used a special emergency law on Thursday to let police explore the scandal-hit Dhammakaya Temple after months of failing to get it to hand over Phra Dhammachayo.

On Sunday, police said that all non-residents must vacate the premises to expedite the search of the 1,000 acre (400 hectare) facility because temple activities were hindering police.

Cops surround scandal-hit Buddhist temple after PM order

Monks who live within the temple grounds were ordered to congregate at an exit point and not interfere with the investigation.

"We are conducting these steps so that we can conduct the search process as quickly as possible so that we can return the temple grounds to the worshippers," Woranan Srilam of the Department for Special Investigation told Reuters.

The temple has been a rare institution in defying the military government. Opposition from political parties and activists has largely been silenced since a coup in 2014.

Phra Dhammachayo faces charges of conspiracy to launder money and receive stolen goods, as well as taking over land unlawfully to build meditation centres.

His aides dismiss the accusations as politically motivated. "This is an abuse of power by the junta who should not interfere on religious matters," temple spokesperson and senior monk Phra Pasura Dantamano told Reuters.

"We have always been willing to negotiate and accommodate the authorities but this is too much."

Around 13,000 people were inside the temple as of Sunday morning, according to Dantamano, who said that the temple would have to comply with the request to evacuate.

Devotees cleansed of bad luck at Thai resurrection temple

Although the temple has no overt political affiliation, the abbot is widely believed to have had links with populist former prime minister Thaksin Shinawatra, who was overthrown in 2006.

A government led by Thaksin's sister was toppled by the army in 2014. The Dhammakaya Temple's brasher approach to winning adherents jars on conservatives, who say it exploits its followers and uses religion to make money.

The temple says it is as committed to Buddhist values as anyone else.