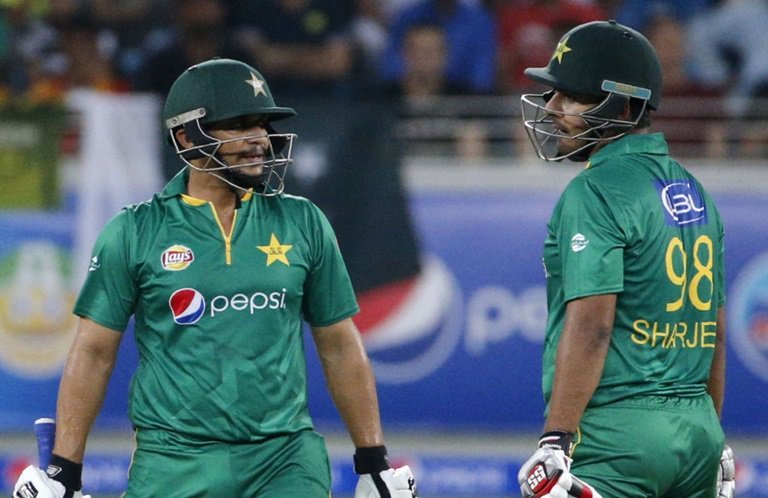 ---
The Pakistan Cricket Board (PCB) on Saturday issued charge sheet to batsmen Sharjeel Khan and Khalid Latif and gave them 14 days to submit their response after the players denied charges relating to corruption.

According to PCB media manager Amjad Hussain Bhatti, if the players accept charges relating to corruption, then the PCB will form a disciplinary committee to decide on their future, while if they do not accept the charges within the given time frame, then a tribunal will be formed which will include a judge, a former cricketer and a renowned and respected member of the society.

If the case goes to the tribunal, the players have the right to appeal. The case would then go to the PCB-appointed adjudicator. There will be no more appeals to the PCB after that and the players then have the right to take the case to court.


If found guilty, Sharjeel and Latif will be made an example of: PCB chairman


"The players have been given 14 days to submit their response. All the things have been written in the charge sheet and will be revealed once the process is complete. We can't reveal the details at the moment."

Well-informed sources within the PCB revealed: "The Pakistan Cricket Board has today issued Notice of Charge to the provisionally suspended players under the PCB Anti-Corruption Code.

"The two players are Sharjeel Khan who has been charged with violation of Code Articles 2.1.1; 2.1.2; 2.1.3; 2.4.4; and 2.4.5 and Khalid Latif who has been charged with violation Code Articles 2.1.1; 2.1.2; 2.1.3; 2.1.4; 2.4.4; and 2.4.5. Both the players have now 14 days to respond to the Notice of Charge.

"PCB maintains zero tolerance toward corrupt practices it believes are a cancer eating at the heart of the game.

"In the meanwhile investigations will continue by Vigilance & Security Department with regard to any questionable activity by any player and player support personnel."

Earlier on Wednesday, Sharjeel and Latif reached Lahore to submit their official statements to the PCB regarding these allegations against them.


My son did nothing wrong, claims Sharjeel's father


The Islamabad United pair were provisionally suspended last week from the ongoing Pakistan Super League and subsequently sent back to Pakistan from the United Arab Emirates after they were found to be involved in a spot-fixing scandal by the cricketing authorities. They were also provisionally suspended from PCB's central contracts.
COMMENTS (2)
Comments are moderated and generally will be posted if they are on-topic and not abusive.
For more information, please see our Comments FAQ