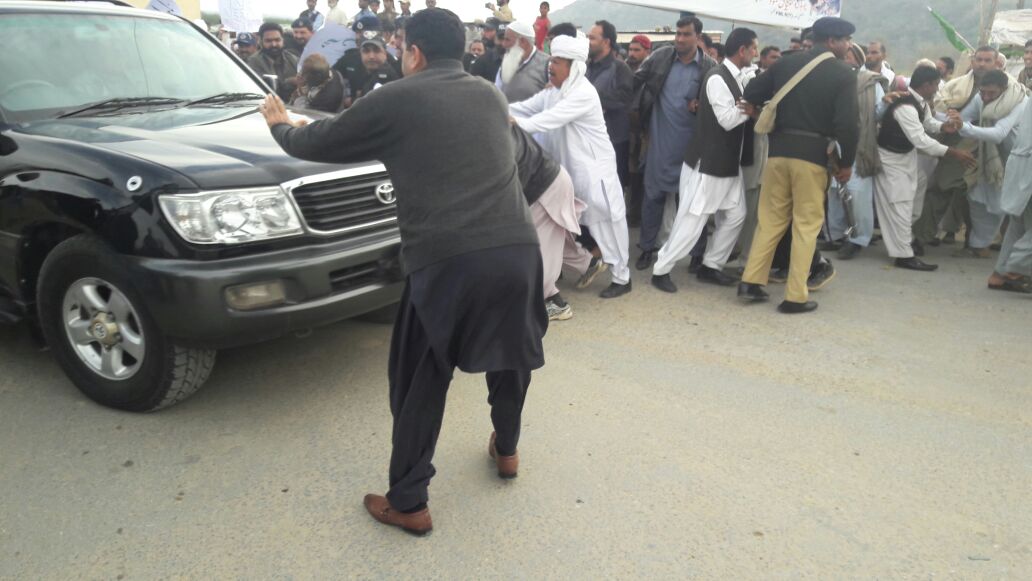 ---
MUZAFFARABAD:
Police baton-charged on Saturday a group of protesters and injured four of them as they tried to intercept a convoy of Azad Jammu and Kashmir (AJK) Prime Minister Raja Farooq Haider on his maiden visit to Bhimber district.
Hundreds of proposed Bhimber Industrial Zone land victims gathered at the Bab-e-Kashmir Bridge in a bid to stop the AJK premier's convoy and mark their protest against alleged irregularities in the allotment of their lands.
A furious crowd tried to stop Prime Minister Haider when he was on his way to Samhani from Bhimber city.
Western route now part of CPEC: Khattak  
Police used batons and fired tear gas at the protesters to disperse them, as a result of which four Bhimber Industrial Zone land victims were injured.
The injured were taken to District Headquarters Hospital Bhimber. Three of them were discharged following basic medical treatment while the fourth person was admitted but the doctors confirmed his condition was stable.
The protesters said that they wanted to have a word with the AJK prime minister so that matters related to their lands could be resolved.
"We have been requesting the prime minister's personal staff to arrange a meeting with him [Raja Farooq Haider] for the last three days but in vain," claimed a protester.
"On Saturday, we decided to gather at the roadside to seek his attention.... We voted for him to listen to the people and solve our problems but the district administration used force to disperse us."
12 sites proposed for special economic zones in Balochistan, K-P
The protesting land victims were of the view that nobody had a right to grab our land by force or by unlawful tactics.
"Our demand was simple to investigate the issue and take actions against the revenue officers who allotted our land to others and give it back to us," they explained.
One of the victims said that the "way Pakistan Muslim League-Nawaz (PML-N) adopted to listen to us was unfortunate, undemocratic and shameful."
Meanwhile, Pakistan Peoples Party (PPP) leader and former AJK legislative assembly speaker Chaudhry Anwarul Haq accused senior minister Tariq Farooq of suggesting the AJK premier that he should avoid meetings with real owners of the land instead of listening to their grievances.
While addressing a press conference in Bhimber, he said, "Senior minister Tariq Farooq has grabbed a 150-kanal land with the help of AJK's revenue department."
The PPP leader added that the "real land owners of Mohra Sadha and Moza Sairla wanted to present fake papers, prepared by the minister, to the AJK prime minister through which he received a share from Rs12 billion earmarked by the federal government from China-Pakistan Economic Corridor to establish Industrial Zone in Bhimber."
Haq continued he had credible evidence that the minister made bogus papers to receive the money from the project, an allegation Farooq has termed as baseless.
The former AJK legislative assembly also appealed the federal government to take notice of the issue and requested it to give money only to the real owners of the land.
COMMENTS
Comments are moderated and generally will be posted if they are on-topic and not abusive.
For more information, please see our Comments FAQ