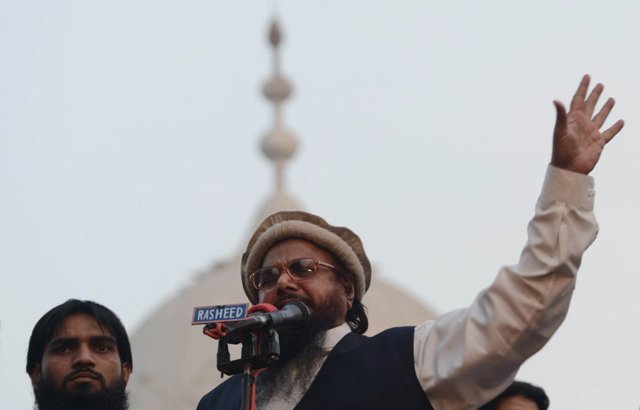 ---
LAHORE: Punjab government on Saturday included names of Jamatud Dawa (JuD) chief Hafiz Saeed and his four aides in the fourth schedule of the Anti Terrorism Act (ATA).

Saeed name has also already been put on the exit control list.

A Punjab Home Department official told The Express Tribune that the five men added to the Fourth Schedule are "active members of the Jamaatud Dawa and Falah-i-Insaniyat Foundation".

'No terror in Pakistan': End travel curbs against Hafiz Saeed, says JuD

On January 30, Punjab government while working under Section 11-EEE(1) of the ATA took organisational office-bearers of JuD and Falah-e-Insaniat Foundation into protective custody. These included Hafiz Saeed (Lahore), Abdullah Ubaid (Faisalabad), Zafar Iqbal (Markaz Tayyaba Muridke), Abdul Rehman Abid (Markaz Tayyaba Muridke) and Kashif Niazi of Multan.

Fourth Schedule

The Anti-Terrorism Act 1997 empowers the government to mark a person as 'proscribed', and to place that person on the fourth schedule on an ex-parte basis.

According to Section 11EE of the ATA, the Fourth Schedule is to include "any person who is an activist, office-bearer or an associate of an organisation kept under observation or proscribed or affiliated with any group or organisation suspected to be involved in terrorism or sectarianism."

The person put under Fourth Schedule requires his movements to be restricted to any place or area specified in the order, and cannot reach places he is prevented from without prior permission to concerned police schools, colleges and other institutions where persons under 21 years of age or women are given education or other training or are housed permanently or temporarily.

JuD requests Interior Ministry to remove Hafiz Saeed, 37 others from ECL

Such persons also have restrictions to visit theatres, cinemas, fairs, amusement parks, hotels, clubs, restaurants, tea shops and other place of public entertainment or resort, airports, railway stations, bus stands, telephone exchanges, television stations, radio stations and other such places, public or private parks and gardens and public or private playing fields, and the scene of any public meeting or procession of any assemblage of the public, whether in an enclosed place or otherwise in connection with any public event festival or other celebrations.
COMMENTS (7)
Comments are moderated and generally will be posted if they are on-topic and not abusive.
For more information, please see our Comments FAQ