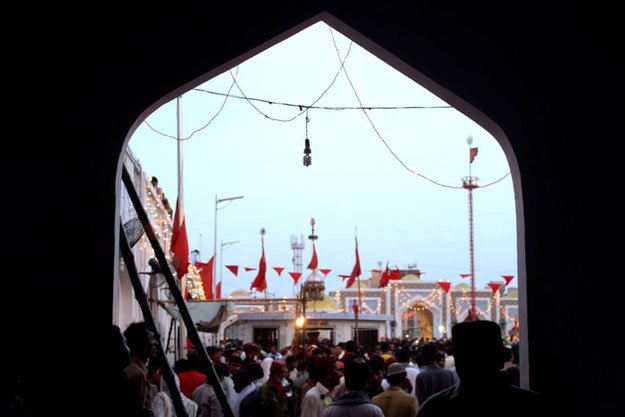 ---
ISLAMABAD: World leaders on Friday expressed outrage and condemned the savage bombing of the shrine of Lal Shahbaz Qalandar in which 88 devotees lost their lives a day earlier.

The UN secretary-general's deputy spokesperson Farhan Haq in a statement deplored Thursday's attack saying, "We condemn the terrorist attack on worshippers at a Sufi shrine in Sehwan."

The United Nations also extended condolences to the families of the victims of one of the deadliest terrorist attacks in the country.

Pakistan's closest ally China expressed shock over the ghastly attack at the Sufi shrine and condemned the perpetrators. At the same time China said it "opposes any form of terrorism".

The Kremlin on Friday expressed its deepest sympathies over the Sehwan attack. Russian President Vladimir Putin expressed condolences to his counterpart, President Mamnoon Hussain, over the incident. "Please accept our deepest condolences in connection with the tragic consequences of a terrorist attack in the province of Sindh," Sputnik new agency quoted Putin as  saying in his message to Mamnoon

The US strongly condemned the suicide bombing on the shrine of Lal Shahbaz Qalandar and offered its support to Pakistan to bring the perpetrators to justice, saying it stands by Pakistan in the fight against terrorism.

US State Department spokesman Mark Toner said, "We extend our condolences to the victims and their families and wish a full recovery for all of those injured. We also offer our support to the government of Pakistan as it works to bring the perpetrators of this crime to justice."

He reiterated that the United States stands with the people of Pakistan in their fight against terrorism and remains committed to the security of South Asia. Japan also expressed its grief and concern over the suicide attack on the devotees.  A statement issued by the Japanese ministry of foreign affairs said that Tokyo  is shocked and saddened by the suicide attack which caused numerous deaths and injuries on February 16.

Tajik President Emomali Rahmon also sent a telegram of condolences to Prime Minister Nawaz Sharif over the loss of precious lives.  According to a press statement, the Tajik President said, "We are deeply saddened by the tragic news of the terrorist explosion in the mausoleum of Sehwan, which killed dozens of innocent people and pilgrims, and injured more than 150 citizens.

Afghanistan's President Ashraf Ghani also condemned the horrific attack on Lal Shahbaz Qalandar's shrine. In a statement issued on Friday, Ghani said Afghan security forces were fighting all terrorist groups, including the Islamic State, which claimed responsibility for the attack. He said militant groups always seek to "target civilians in Afghanistan and other parts of the world."" (With additional input from news desk)

Published in The Express Tribune, February 18th, 2017.
COMMENTS
Comments are moderated and generally will be posted if they are on-topic and not abusive.
For more information, please see our Comments FAQ