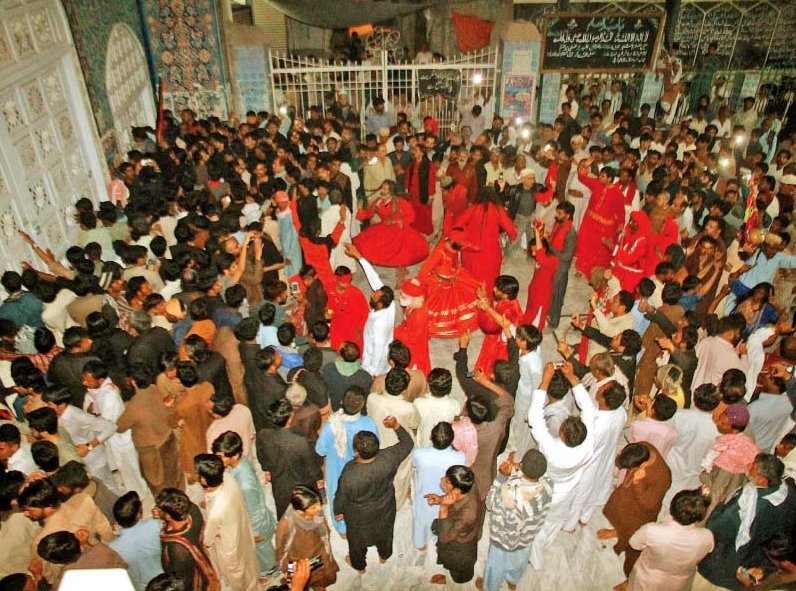 ---
SEHWAN: Devotees of Lal Shahbaz Qalandar thwarted the terrorists' evil plans to stop them from spreading the message of love as they performed their devotional dance, dhamaal, with even more fervour on Friday evening at the very place which was bathed in blood by a suicide bomber on Thursday.

Clad in red cholas [cloaks], a group of malangs [mystics] headed towards the Qadeemi Gate of the shrine and whirled around in circles at the doorstep as if seeking fulfilment of their age-old desire to meet their beloved.

The scene at the outer courtyard looked like preparation for a festival held once in a century. Men, women and children were fervently singing and dancing together. Barefoot they stamped their feet on the marble floor, calling out to Sain [the saint] to open his doors for them.

As the tempo of the drumbeats from the inner courtyard increased, so did the devotees' fervour. The doors started trembling suddenly. People started clinging onto them like honey bees cling to their hive.

A group of people also started beating their heads and chests, chanting the name of Imam Hussain [RA] – the grandson of Prophet Muhammad [pbuh]. The sound produced by this matam [lamentation] outdid the drumbeating. After a while, the doors were opened and people ran inside. However, once inside they looked immensely calm.

The same acts were repeated at the inner courtyard where the traditional drums, called nobat in Sufis' term, were placed. Some performed dhamaal again, others continued their matam. During all this activity, another door opened with a view of the zarii, the canopy over the Qalandar's grave.

This time, no rush was seen. Whosoever entered the shrine, entered with respect and devotion. Some celebrated, others still cried. Some were doing matam, others were doing dhamaal. No one was saying anything. But there was also another group of people, engrossed in praying and reciting the Holy Quran.

The place – where the dead and injured were scattered a day ago amid pool of blood – had suddenly come back to normalcy. People behaved as if nothing had happened; so did the authorities. No one was asked to go through a security check.

When everybody seemed involved in their own world, a man clad in black shalwar qameez – his collar turned behind his neck and forearms filled with karras [bangles] – stepped back without turning his face from the zarii.

"The dhamaal at the Sehwan shrine shall not stop until qayamat [Day of Judgment]," he suddenly said. "Bolo Bolo Sakhi Laal Qalandar Mast," he shouted before vanishing in the crowd of devotees.

Published in The Express Tribune, February 18th, 2017.