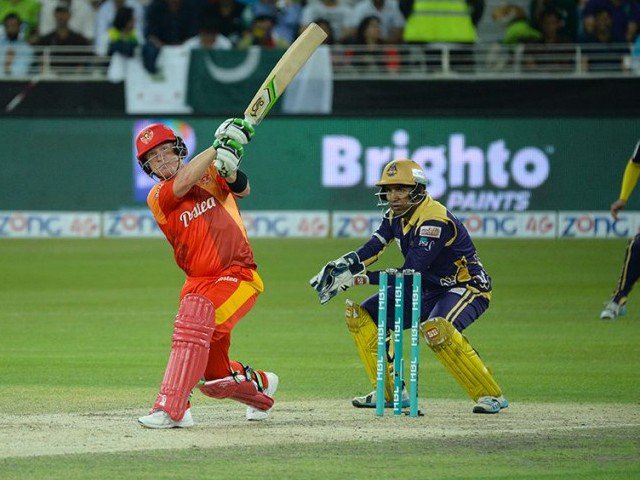 ---
Who are you supporting in the on-going Pakistan Super League (PSL)? This is the most frequently asked question by anyone to everyone nowadays, at least in the cities that are being represented by the five different franchises.

However, the question starts to get annoying after some time, doesn't it? Then what is the best way to escape the irritating probes into your loyalty?

Here, we list a few things that you can do to avoid being interrogated again and again.

1. Wear your favourite team's shirt

The best way to highlight your team preference in the on-going PSL is by adorning a team shirt. And if you have some extra cash in your kitty, buy all five PSL 2017 shirts representing franchises.

There are two benefits: one, you will add five different t-shirts to your wardrobe for the upcoming summers and second, you can wear a different shirt for each match to display your inclination.


2. Get your thinking 'caps' on

If you are not the t-shirt kind of person and prefer casual or semi-formal shirts, you can always boast your liking for your favourite franchise by a wearing cap.

With summers hitting Pakistan soon, a cap can always be a safeguard against the scorching sun and also from the irritating investigators.


 3. Get into the hood

If you are an Islamabad United fan, hoods and jackets must be your thing at the moment because of the extended winter this time around in the capital city.




4. Cup of tea or coffee?

Doesn't matter if you drink coffee or tea, the only thing that matters is the cup branded with Islamabad United logo which you can place in your office or in your room to help everyone recognise your love for the defending champions.




But where do I buy all this from? We have the perfect answer for you.

You can buy Islamabad United's official merchandise from Yayvo.com. Meanwhile, Peshawar Zalmi, Karachi Kings and other teams' merchandises are also available on Yayvo; currently the only e-commerce platform in the country that has launched an entire campaign for the tournament.

If you have an account in Habib Bank Limited, you can avail a 15% discount on all available franchise merchandises.

But they take ages to deliver!

TCS Hazir is your answer to this problem. Get anything and everything delivered to your doorstep within 120 minutes through this service. They don't promise to pluck the moon from the sky for you, but they deliver in the time that they promise.

Is that enough? No, then there is more.

Yayvo.com has partnered with Pakistan Cricket Board's official fan club 'Cricket Junoonis' to help you travel to the UAE, watch PSL matches, take city tours and get great value for your money, that too, at an affordable price.

You can follow Yayvo's official Twitter account for all the updates and more about PSL.