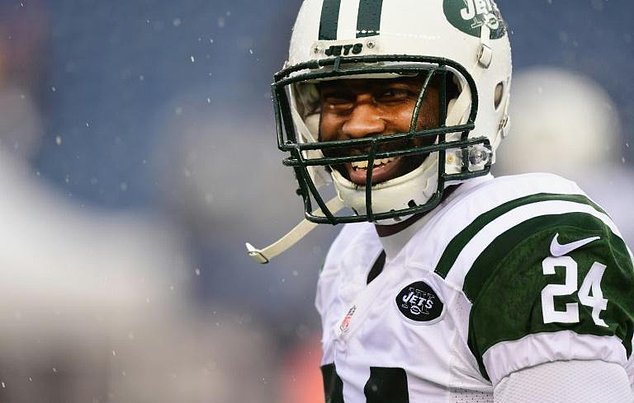 ---
NEW YORK: New York Jets cornerback Darrelle Revis is expected to be charged with criminal violations related to a Sunday street altercation in Pittsburgh that left him injured, the city's Department of Public Safety announced Thursday.

Police said charges pending include terroristic threats, robbery, conspiracy and aggravated assault.

ESPN reported that Blaine Jones, Revis' attorney, has been told by Pittsburgh police that the NFL standout will be charged, with an arrest warrant to be issued and Revis placing himself in police custody.


Bouchard pays off Super Bowl bet with blind date


The incident began when two men approached Revis just before 3:00 am local time, one of them recording on his cellphone as they followed Revis.

Police said in a statement that Revis allegedly grabbed the phone in an attempt to delete the video, before tossing it on the road.

The men then engaged in a verbal argument, police said, before another man came to Revis' assistance.


Wiggins' big night goes to waste as LeBron takes over


The two men who had approached Revis, ages 22 and 21, told police they were then punched, and last remember waking up and speaking with officers.

Witnesses said the two were unconscious for about 10 minutes. Police viewed the video and confirmed Revis was the subject.

Jones said Revis needed medical attention, but did not detail the injury.

"The bottom line is, Darrelle Revis was the victim in all of this," said Jones. "He never went out to start a fight. He has stellar credibility. ... He feared for his safety."


Fresh murder trial set to begin for former NFL star Aaron Hernandez


Revis, 31, is a four-time all-pro and a former Super Bowl champion with the New England Patriots.

But next month he could lose his spot on the Jets, who could look to save $15.3 million against the NFL salary cap by releasing Revis.

In 10 NFL seasons, eight with the Jets, Revis has 29 interceptions, four forced fumbles and two sacks in 140 games, all of them as a starter.

The Pittsburgh native played 15 games last season, finishing with five deflections and one interception.