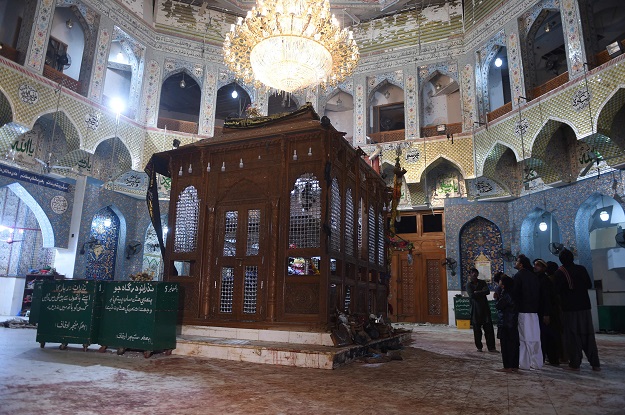 ---
At least 70 people were killed and hundreds more wounded in Pakistan Thursday when a suicide bomber blew himself up among a crowd of devotees at a revered Sufi shrine in southern Sindh province.
Here is a list of major attacks by militant groups in the country since 2007:

October 18, 2007:
Bomb attacks targeting former premier Benazir Bhutto kill 139 people in Karachi as she returns to Pakistan for the first time in eight years. Bhutto herself dies in a gun and suicide attack on December 27.




August 21, 2008:
Twin suicide attacks kill 64 people outside Pakistan's main arms factory at Wah near Islamabad.
September 20, 2008:

Sixty people are killed when a suicide truck bomb destroys part of the five-star Marriott hotel in Islamabad.




October 28, 2009:

A car bomb rips apart a market in the northwestern city of Peshawar, killing 125 people.




December 7-9, 2009:

At least 66 people die in four attacks at a market in Lahore, Pakistan's second biggest city.

January 1, 2010:

A suicide car bomb kills 101 people at a village volleyball game in the northwestern district of Bannu.

May 28, 2010:

Gunmen and suicide bombers storm mosques belonging to the Ahmadi religious minority in Lahore, killing 82 people.




July 9, 2010:

A suicide bomber kills 105 people in a busy market in the northwestern tribal district of Mohmand.

September 3, 2010:

A suicide attack kills 59 at a Shia Muslim rally in Quetta.

November 5, 2010:

A suicide bomber kills 68 people during Friday prayers in the northwest's Darra Adam Khel area.




April 3, 2011:

Fifty die after two suicide bombers attack a Sufi shrine in the central town of Dera Ghazi Khan.



May 13, 2011:

Two suicide bombers kill at least 98 people outside a police training centre in Charsadda.



January 10, 2013:

A double suicide attack on a snooker club kills 92 in a district of Quetta populated by Shia Hazaras.

February 16, 2013:

A bomb at a market in Hazara Town, a Shiite neighbourhood near Quetta, kills 89.

March 3, 2013:

A car bomb explodes in a Shia neighbourhood in Karachi, killing 45.

September 22, 2013:

Eighty-two people die when two suicide bombers attack a church in Peshawar after a Sunday service.

November 2, 2014:

Fifty-five people are killed by a suicide bomber at the main Pakistan-India border crossing.

December 16, 2014:

Taliban insurgents storm an army-run school in Peshawar, killing more than 150 people, most of them children.




January 30, 2015:

Sixty-one people are killed as a suicide bomber hits a Shia mosque in Shikarpur in southern Pakistan.

May 13, 2015:

The first attack officially claimed by the Islamic State group in Pakistan kills 45 Shia Muslims in Karachi.

March 27, 2016:

Seventy-five people are killed and hundreds injured in an explosion that targets Christians near a park in Lahore.




August 8, 2016:

At least 73 people die and dozens are wounded when a blast tears through mourners at a hospital in Quetta.



October 25, 2016:

A brutal gun and suicide bomb assault on a police academy in southwestern Balochistan kills 61 people, the deadliest strike on a security installation in the country's history, jointly claimed by the Islamic State group and Lashkar-e-Jhangvi.

November 12, 2016:

At least 52 pilgrims are killed, including many women and children, at a shrine in Balochistan.

February 16, 2017:

At least 70 people are killed when a bomb claimed by IS rips through a Sufi shrine in Sindh province, wounding more than 200.
The attack comes after a series of bloody extremist assaults in less than a week, most claimed by the Pakistani Taliban.