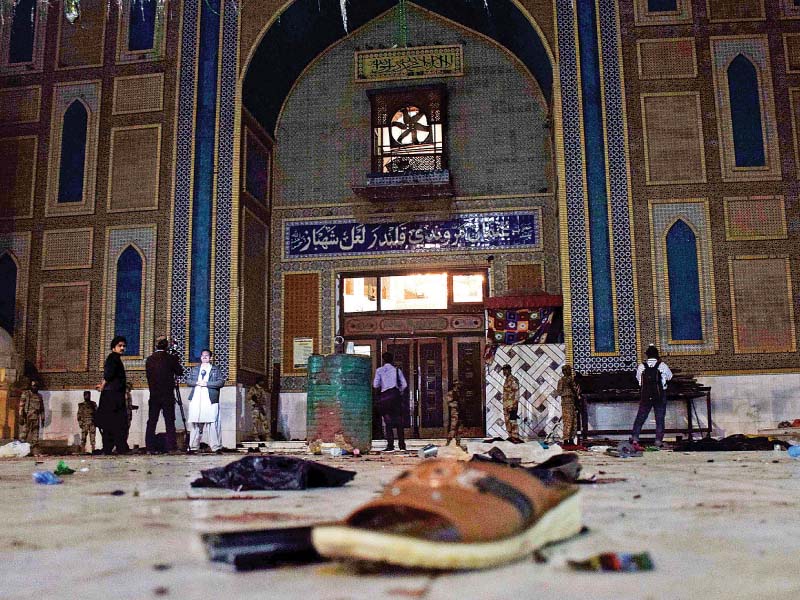 ---
HYDERABAD/ KARACHI: Terrorists are loath to anything and everything that doesn't fit in their obscurantist ideology. An orgy of sickening violence was played out at the shrine of a popular Sufi saint in Sindh on Thursday, capping a bloody week of terrorist violence that shook the country's growing sense of security and triggered calls from the army chief for "revenge — immediate revenge".

At least 72 people were killed and over 200 injured when a suicide bomber struck in the midst of devotees at the shrine of Lal Shahbaz Qalandar in Sehwan town, some 200 kilometres northeast of Karachi. The deadly attack was reminiscent of a near-identical bombing at Dargah Shah Noorani, in Khuzdar district of Balochistan, in November last year.

72 dead as suicide bomber strikes inside Lal Shahbaz Qalandar shrine in Sehwan

The bomber entered the compound from the Golden Gate side and headed straight for the area where a crowd of devotees was performing dhamaal (an ecstatic devotional dance), sources told The Express Tribune. Since it was Thursday, which is considered a sacred day for prayers, there was an extraordinary rush of devotees at the shrine.

"So far 72 people — 43 men, 20 children and nine women — have been killed and more than 150 wounded," IG Sindh AD Khawaja said. "Many wounded people are in a critical condition and they will be shifted to Karachi as soon as Navy helicopters and a C-130 plane reach the nearest airport."

Faisal Edhi of the Edhi Foundation gave a slightly higher toll, saying that 76 people have been killed. Senior police officer Shabbir Sethar feared the death toll might go up.

Rescue officials said dozens of wounded people were being ferried in private cars, in auto rickshaws, on carts, and on foot to hospitals. Emergency services are basic in Sehwan, with the nearest main hospital some 130 kilometres away. Dr Moeen, the medical superintendent of the Taluka Hospital Sehwan, said that they had received 50 bodies — some of which were mutilated beyond recognition.

"More than 250 people are injured — 42 of them critically," he said, adding that those with life-threatening wounds were being moved to hospitals in nearby districts. A state of emergency had been declared in hospitals in Dadu, Sehwan and Hyderabad. Provincial Health Minister Dr Sikander Mandro said an emergency had been declared in Karachi hospitals too.

Army chief General Qamar Bajwa ordered immediate assistance to the victims. And subsequently army and Rangers troops were moved to the shrine with medical support. "The Combined Military Hospital in Hyderabad has also been directed to treat the injured," DG ISPR Maj Gen Asif Ghafoor said in a series of Twitter messages.

Chief of Air Staff Air Chief Marshal Sohail Aman directed his force to utilise the C-130 transport aircraft for evacuation of the casualties. "The injured will be treated at PAF hospitals," he was quoted as saying by the DG ISPR. Similarly, Chief of Naval Staff Admiral Zakaullah put all naval hospitals in Karachi on high alert, saying they were ready to receive the injured through 'night-capable helicopters'.

Lal Shahbaz Qalander is one of the country's most revered shrines, dedicated to a 13th-century saint whose spirit is invoked by devotees in ecstatic daily dancing and singing rituals in Sehwan Sharif. However, most of the country's myriad radical militant groups despise Sufis and other religious minorities as heretics.

The Islamic State, the Middle East-based militant group which has a small but increasingly prominent presence in Pakistan, claimed responsibility for the attack, the group's affiliated news agency AMAQ reported. There were unconfirmed reports that the suicide bomber was a woman. And based on preliminary investigations, police said the bomber carried over 20 kilos of explosives in his suicide vest.

Army chief vows revenge

Forensic Division Sindh sent its Crime Scene Vehicle, or Forensic Mobile Station Van, along with forensic experts, to Sehwan to gather vital evidence. Sindh Chief Minister Syed Murad Ali Shah denounced the attack and directed the provincial police chief to submit investigation report as soon as possible. He also declared three-day mourning across the province.

The country has seen an upsurge in terrorist violence over the past few days, with bombers striking in Lahore, Peshawar, Mohmand Agency, and now in Sindh. Seven people were killed in two suicide attacks in Mohmand, while a bomber targeted a van carrying lower court judges in Peshawar.

The high death toll in Thursday's bombing makes it one of the worst attacks in the country in recent years. In August last year, at least 74 people, mostly lawyers, were killed in a gun and suicide attack at Quetta's Civil Hospital. The Jamaatul Ahrar (JuA) faction of the outlawed Tehreek-e-Taliban Pakistan and Islamic State claimed responsibility for that atrocity. The JuA also said it was responsible for a bombing in Lahore earlier this week that killed 13 people.  (With additional input from Agencies)

Published in The Express Tribune, February 17th, 2017.
COMMENTS (3)
Comments are moderated and generally will be posted if they are on-topic and not abusive.
For more information, please see our Comments FAQ