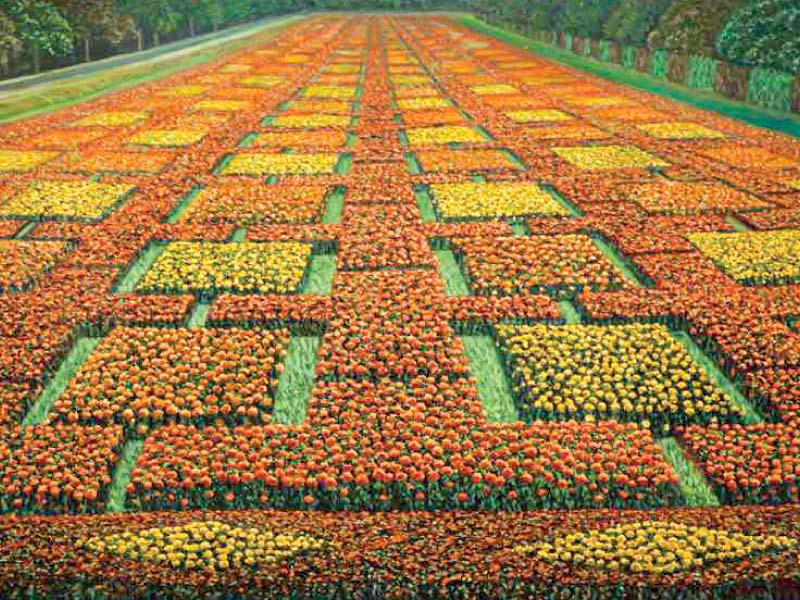 ---
LAHORE: A solo show of 37 oil paintings on canvas inspired by the designs and patterns made by gardeners in Lahore's public parks are on display at Ejaz Art Gallery till February 23.

The artist Shahid Jalal's inspiration process began at a trip to a museum in Tehran, where he came across exquisite carpets in significant numbers made in Lahore centuries ago. "The flower carpets I saw in Lahore seemed to be a continuation of the designs I had seen in the woven carpets displays in the museum," he said.

Shahid said around six years ago, the gardeners of various public parks of Lahore started planting seasonal flowers in interesting patterns in the form of carrots on large tracts of gardens and along the canal that gradually inspired me to paint the series called 'Flower Carpets of Lahore'.

"In the early years, they were simple designs which became more and more complicated as the gardeners became increasingly confident of their designing skills", he added.

The artist said he has been painting this theme for the past five years at various times, especially when marigolds are planted in winter and petunias and other flowers in the spring.




Discussing the painting process, Shahid said the subject matter forced him to work in the studio using photographs for the first time in his career, as it was just not possible to work on the huge canvas and achieve that much detail. "I sketch and do some work at the spot, like the main drawing and major colours and tones of the flowers, he explained.

While some of Shahid's paintings have picked up scenery from real life flower carpets, but some collages were developed simply as a result of an organic imaginary process.

He said that for the past few years he had been making sketches of individual flowers especially chrysanthemums and cockscombs that were taken from various gardens where they were planted individually or groups but not in form of carpets.

"Over the years I have collected so many of these paintings that it occurred to me to exhibit in form of carpets too," he said, adding that due to complexity of the composition some of the paintings almost appear abstract but that was not the intention.

"I like to maintain as much details as possible and yet retain the complexity of design which was not easy as I had to visit the canvases long after I thought I had completed the painting," Shahid said.

He added that because of the scale of canvas in some paintings, it was a real struggle to get perspective and distance right.

Published in The Express Tribune, February 17th, 2017.