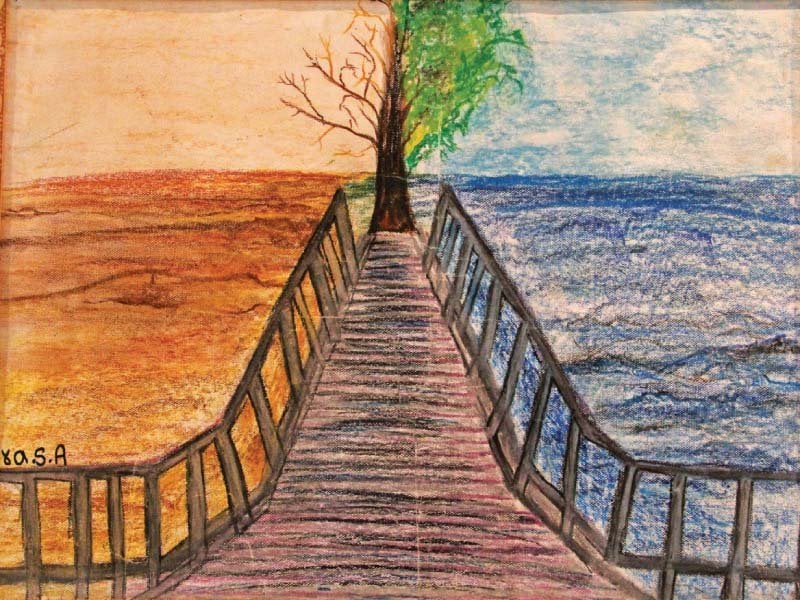 ---
KARACHI: Art can be therapeutic; it helps you heal from trauma and can help develop a voice from within you.

Karwan-e-Hayat, an Institute for Mental Health Care, presented the work of 50 patients in the form of 34 combined art works, including drawings, paintings, embroidery and rallies work, at FOMMA Art Gallery located inside Zamzama Park on Wednesday.

Despite the work being on display, none of the patients-turned-artists were present at the event.

Bold and empowered: Artist brings to life headstrong women

Speaking to The Express Tribune, Omar Farooq Khan, head of communications and marketing at Karwan-e-Hayat, said, "The work you see here is by patients who are suffering from numerous ailments from depression to anxiety disorders, schizophrenia, bipolar disorders or panic attacks."

Khan said, "Some of these patients have recovered but on an average it takes a person six months to be on the road to recovery." He added that they are a charity organisation that helps people with mental illnesses. "We want people to be helped and be able to get their health back," he said.

Of the artwork presented at the art institute, some were water colours, others included rallies -patch work or embroidery done in floral patterns. The water colours and pencil sketches depicted landscapes predominantly, along with drawings of animals.




Khan said there remained a 'huge amount of stigma attached to the term mental illness'. So much so that though people are seeking help, we feel ashamed to be someone associated with that person, he lamented. "I hope that this attitude changes, which will lead to a behaviour change," he said.

"Those who actively get involved in art work try and understand the world better. It's like coming out of the doom and gloom situation," said Khan. "It is very self-healing for them. Once they come back to life, they engage in daily routine activities," he explained, adding that art heals.

Art gallery established: Paintings depicting colours of rural life displayed

Karwan-e-Hayat CEO Zaheeruddin Babar said that the organisation had been helping people suffering from mental health issues for the past 33 years in Karachi. They have a 100-bed hospital in Keamari and two other units on Khayaban-e-Jami in Defence and Dar-us-Sukoon in Korangi. Currently, 55,000 patients are being treated at the hospital free of charge, he said.

"The stigma associated with the illness is huge and needs to be broken," said Babar.

Later, Fawzia Naqvi, honorary CEO of FOMMA Art Gallery said, "This is brilliant artwork done by these patients".

We are holding this exhibition for the first time, she added, explaining that they plan to hold othdr exhibitions in the future so that more potential artists are able to show their work.

Published in The Express Tribune, February 17th, 2017.