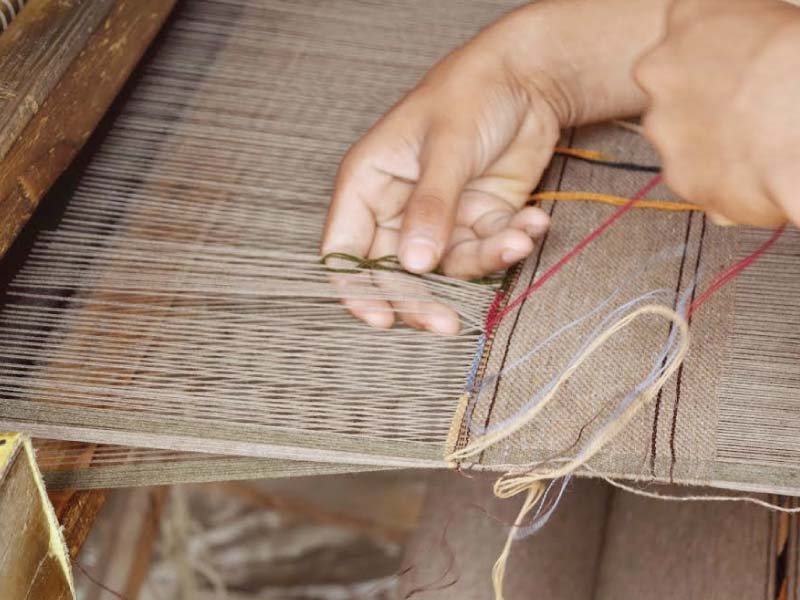 ---
SWAT: Happiness may be transient and elusive in most parts of the globe but it has a permanent address and location in a union council close to the scenic Swat capital of Mingora.

Exactly five kilometres away from the city lies Islampur , one of the happiest and most peaceful areas of the district, the province and possibly the country.

Islampur boasts of an employment rate of 100 per cent thanks to its centuries' old cottage industry. A vast chunk of Islamapur's population – estimated to be around 25,000 people – works on handlooms and earns its livelihood by knitting traditional shawls and other fabrics.

Handicraft-makers: Multan chamber seeks support for artisans

Bakht-e-Rahman, a man in his mid-80s, tells The Express Tribune that he learnt the art of knitting on handlooms from his father when he was a teenager.

"For me, it is very difficult to tell exactly how old is Islampur's cottage industry and who was its pioneer, but I believe this industry is centuries old," Rahman said.

Years ago he said he had installed four handlooms at his courtyard, and now his four sons are working on them.

Wali Rahman, another resident of Islampur, said there were a total of 5,000 handlooms operated manually by local artisans. "Every day, a total of 12,000 shawls are knitted on handlooms by local knitting experts," Wali said, adding that two power looms had also been installed in Islampur.

"A single power loom is capable of knitting 50 shawls in a day while a craftsman cannot knit more than three shawls with the help of a handloom.

Wali said local people were able to earn four to five-hundred rupees after a day's toil. This daily wage might be low but they are happy as they do not need to go out for work, he added.

Local artisans get to show off their skills at Sindh Folk Festival

Riaz Ahmad, a resident of Islampur, told The Express Tribune that a research study conducted on life in Islampur has revealed that people of the area are happier than people of other union councils of Swat.

"The people here are more tolerant. That is the reason why Islampur didn't suffer casualties and destruction at the hands of militants during insurgency in Swat," he added.

Riaz pointed out that crime and drug addiction were also negligible in Islampur. "There is no need for crime and other social evils. This quality of Islampur is connected to its centuries-old cottage industry, which is a boon for the area," he added.

Published in The Express Tribune, February 16th, 2017.