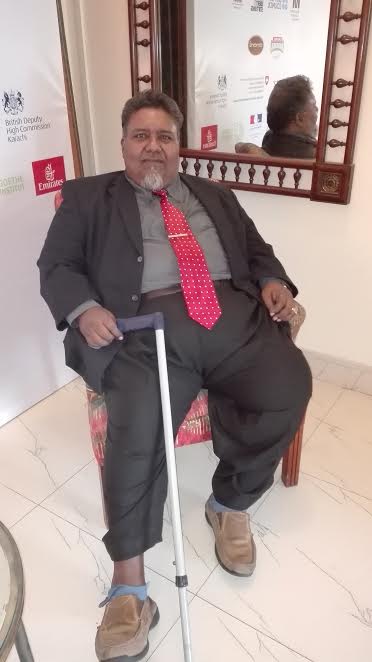 ---
KARACHI: Taking advantage of the literature festival last weekend, a poet from Maldives made his way to Karachi with only one mission: share his country's stories.
Ibrahim Waheed Ogaru is a writer, a poet and a television show host who arrived in Karachi last week to attend the eighth Karachi Literature Festival on the invitation of Pakistan's ambassador to Maldives, Syed Khawar Ali Shah.
His vision is to bring Maldives literature to the floor of the world. "Maldives is not only a place for tourism," he clarifies at the outset. "One thing that the world needs to know is that there are writers [in Maldives] who'd like to get published elsewhere. Maldives too would like to place its culture and literature in the spotlight," he tells The Express Tribune during an interview.

KLF kicks off 8th edition by giving voice to the voiceless
Ogaru calls Maldives 'insular'. "It's an island and it is very isolated from the world," he explains.
Shah, who has been posted as Pakistan's ambassador to Maldives since November 2015, also paints a very different picture of Maldives, a country known primarily as an exotic tourist destination. It is a very sophisticated society, he says.
"Their local language, Dhivehi, takes and borrows a lot of words from Urdu and they have a strong poetic heritage based on classical Urdu traditions," he tells The Express Tribune in an email interview. Even poetry competitions in Maldives are known as 'bait baazi', he adds.

A hunger for reading
Hoping to encourage public diplomacy between the two countries, Shah felt Ogaru can gain exposure in Pakistan. "I first listened to Mr Ogaru on international poetry day," he says. "He is a linguist, a TV anchor and very articulate. It is for this reason that the Pakistani embassy sponsored his trip to KLF 2017. His poetry has depth and he can philosophise issues very well. He is rich in ideas."
On his passion for writing, Ogaru says it is the "most compulsive thing to do". Sometimes he wakes up in the middle of the night and writes. "I can't stop until I pen it all down," he said, calling himself "a restless being when it comes to writing". He writes mostly in Dhivehi, which is written in old Sanskrit script but also in English.

Italian readers to get a taste of Pakistan
Despite his passionate writing habits, Ogaru admits he never considered that he will be labelled a writer - a title he accepts humbly. "My forte, I would say, is writing short stories," he says. "Short stories do not fall, in the dictate of times, certainly not like old Shakespearian tales. It is just an observation of life; it forms a whole different perspective."
His more recent claim to fame comes from his English show, 'Witness With Waheed', which gained significant popularity recently when he invited preacher Zakir Naik on his show.
COMMENTS
Comments are moderated and generally will be posted if they are on-topic and not abusive.
For more information, please see our Comments FAQ