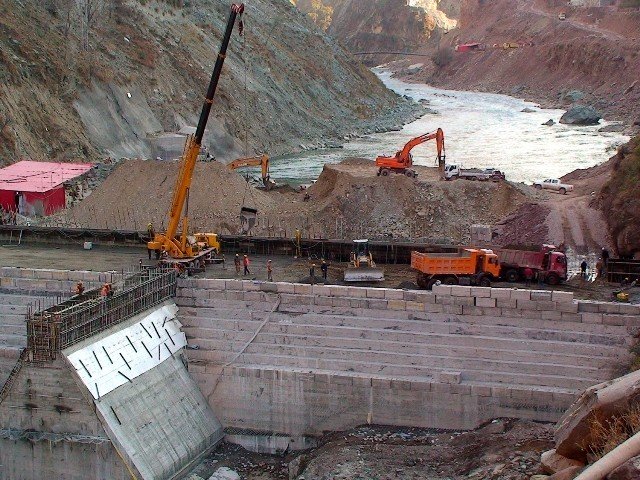 ---
ISLAMABAD: Neelum-Jhelum Hydropower project will be ready for inauguration in February 2018, Water & Power Development Authority (Wapda) chairman informed Prime Minister Nawaz Sharif on Wednesday.

In a briefing at the Prime Minister's House in Islamabad, Lt-Gen (retd) Muzammil Hussain, the newly-appointed chairman, briefed the prime minister regarding various ongoing water and power projects in the country, a statement said. PM Nawaz had earlier tasked the Wapda chairman to speed up execution of the crucially significant hydro power projects.

Jhelum hydropower project: Excavation of tunnels to be complete by April

"Neelum Jhelum hydroelectric project will be ready for inauguration on February 28, 2018. The left tunnel connection of the project was completed in October 23, 2016 while the right tunnel connection will be completed by April 30, 2017," the communiqué quoted the chairman as saying.

The premier was further briefed that the project's dry test is scheduled for December 2017 while the wet test will be conducted by February 01 of the next year by generating electricity. "The second unit of Neelum-Jhelum will be operational by March 15, 2018 while the 3rd and 4th unit by April 15, 2018," the Wapda chairman said, adding upon completion the project will earn $15 million in revenue for generating power.

During the briefing, the chairman said speedy execution was underway on the Kachhi Canal project and upon its completion in August this year it will provide irrigation water to an area of 72,000 acres in Balochistan's Dera Bugti district. "A total of 9, 917 acres of land acquisition will be completed by May 2017 for the 2, 160MW Dasu hydro power project," the chairman said, adding ground breaking of main works on $4,300 million Dasu project will be performed in June 2017.

Economic bounty: Kohala hydropower project to get under way soon

Regarding Golen Gol Hydropower Project, the Wapda chairman said it will produce electricity three times more than the requirements of Chitral district in Khyber-Pakhtunkhwa. "This run of the river project is located on Golen Gol Nullah, a majority tributary of Mastuj River. The project will have a 3.8km long tunnel with an installed capacity of 108MW to be completed with a cost of Rs29.077 billion by December 2017," he said.

Background of Neelum-Jhelum project

Wapda, tasked with building dams to ensure water and food security, has lately come under a lot of criticism for poor design of the Neelum-Jhelum Hydroelectric Power Project. New dams are critical to stave off floods that Pakistan has been facing for the past several years. The deluge has caused loss of human lives and damaged agricultural crops.

Neelum Jhelum project on track as 80% work done

Initially, its estimated cost in 1989 was Rs15.2 billion that jumped up to Rs420 billion later. The project has been designed in an effort to secure water rights over Neelum as India is constructing Kishanganga Dam upstream.

Wapda authorities acknowledge that the project was not properly planned from the beginning as realistic financial and geographical surveys were not reflected in the original project cycle. The poor design necessitated mid-course changes in the dam structure, hydraulic structures, cross-section of the Head Race Tunnel and tunneling methodology. Vague estimates and engineering surveys along with some force majeure like rock burst and water seepage below and above the tunnel were also the reasons behind the delay.