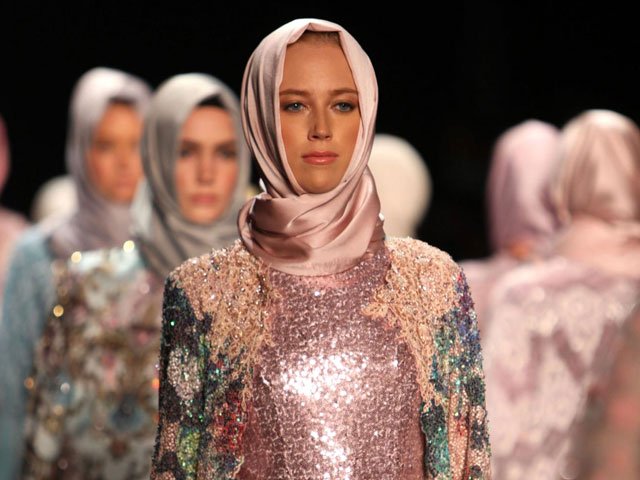 ---
In just two seasons, Indonesian Muslim designer Anniesa Hasibuan has made the hijab her trademark and dazzled New York Fashion Week's catwalk this time around by styling it with flowing, iridescent gowns fit for a princess.

Like in her New York show last fall - which cemented her status as a rising star - all of the models who showcased Hasibuan's Autumn/Winter 2017 collection sported lustrous gray hijabs that sculpted the facial features while carefully covering the hair.

This hijab-clad Delhi 'super biker' is leaving gender stereotypes in the dust

Other than the hijab,  the traditional head and neck covering many Muslim women wear, the 30-year-old designer's clothes evoked nothing of the "modest Muslim" style that sometimes stirs controversy and exacerbates anti-Muslim sentiment in western countries.




On the contrary, Hasibuan's collection features shimmering, on-trend pleats, silver and golden ruffles, and long trains adorned with pearls, glitter or embroidery that recalled royalty of the Middle Ages.

The models were not chosen at random. The young designer held casting calls specifically seeking first and second-generation immigrants to show that "fashion is for everybody."

Saudis call for execution of woman without hijab

"There is beauty in diversity and differences - something we should not be afraid of" she said, speaking through an interpreter. "I believe being a fashion designer can bring a lot of changes - and beautiful changes, of course."




Hasibuan unveiled her second New York collection amid controversy over US President Donald Trump's recent executive order on immigration, currently blocked by a US court, that bars refugees and migrants from seven Muslim-majority nations. The decree ignited mass protests and global condemnation.

Hasibuan, however, aims to keep her work, which is primarily geared toward Muslim women, "separate" from politics.

Debenhams will become first major department store to sell hijab

"I'm here bringing the beautiful voice of the Muslim women, the peace and the universal values that fashion can offer," she said.




Her dream, she said, would be to dress Kate Middleton, whom the designer said is "like a queen," adding that she admires the Duchess of Cambridge for "her elegance."

Hasibuan won worldwide praise for her fall collection in New York last September, the first to feature a hijab in every look. Since then, she has opened new stores in her home country Indonesia as well as in Malaysia, Turkey and Abu Dhabi, proffering modern Islamic clothing dripping in glamour.

Chiara Sari, Indonesia's vice consul in New York, donned a white hijab atop a black, velvet top and black pants to attend the show, pulling her contemporary look together with a statement necklace.
The hijab, Sari said, is Hasibuan's "trademark, and I don't think she will lose that."




Since Trump's contentious decree Sari said she has spent significant time reassuring her fellow Indonesians in the United States, while also urging them to "avoid traveling abroad" to reduce the risk of not being able to re-enter.

For Sari, Hasibuan's growing fame is a gift. "Hopefully that will increase familiarity with Islam in general, especially now, when it is getting a lot of bad press," she said.

Have something to add in the story? Share it in the comments below.