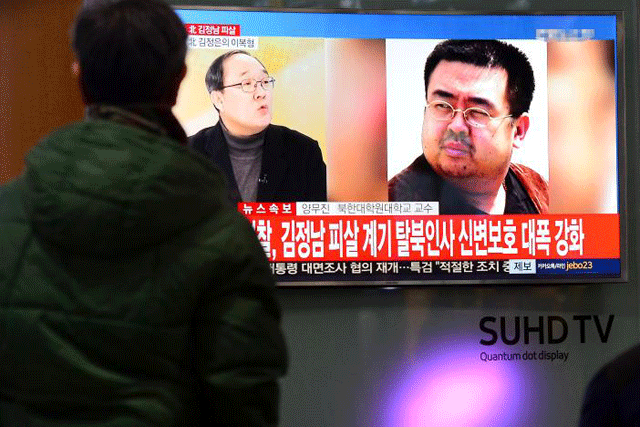 ---
SEOUL/KUALA LUMPUR: South Korea's spy agency suspects two female North Korean agents assassinated the estranged half-brother of North Korean leader Kim Jong Un in Malaysia, lawmakers in Seoul said on Wednesday, as Malaysian medical authorities sought a cause of death.

US government sources also said they believed that North Korean assassins killed Kim Jong Nam, who according to Malaysian police died on Monday on his way to a hospital from Kuala Lumpur International Airport.

South Korean intelligence believed Kim Jong Nam was poisoned, lawmakers said after being briefed by the country's spy agency.

Half-brother of N Korean leader Kim assassinated in Malaysia

They said the spy agency told them that the young, unpredictable North Korean leader had issued a "standing order" for his half-brother's assassination and that there had been a failed attempt in 2012.

Kim had been at the airport's low-cost terminal to catch a flight to Macau on Monday, when someone grabbed or held Kim's face from behind, after which he felt dizzy and sought help, Malaysian police official Fadzil Ahmat said.

According to South Korea's spy agency, Kim Jong Nam had been living with his second wife in the Chinese territory of Macau, under Beijing's protection, the lawmakers said. One of them said Kim Jong Nam also had a wife and son in Beijing.

UN, Trump denounce North Korea, but no sign of any action

Portly and gregarious, Kim Jong Nam had spoken out publicly against his family's dynastic control of the isolated state.

"If the murder of Kim Jong Nam was confirmed to be committed by the North Korean regime, that would clearly depict the brutality and inhumanity of the Kim Jong Un regime," South Korean Prime Minister Hwang Kyo-ahn, the country's acting president, told a security council meeting.

The meeting was called in response to Kim Jong Nam's mysterious death, news of which first emerged late on Tuesday.

South Korea is acutely sensitive to any sign of potential instability in North Korea, and is still technically in a state of war with its impoverished and nuclear-armed neighbour.

Ticket To Macau

Malaysian police said the dead man, 46, held a passport under the name Kim Chol. Kim Jong Nam was known to spend a significant amount of time outside North Korea, travelling in Macau and Hong Kong as well as mainland China, and has been caught in the past using forged travel documents.

Malaysian police said on Tuesday the cause of Kim's death was not yet known, and that a post-mortem would be carried out.

Kim's body was taken on Wednesday morning to a second hospital, where an autopsy was being performed. North Korean embassy officials had arrived at the hospital and were coordinating with local authorities, police sources said.

One of the South Korean lawmakers said Seoul's spy agency expected the body would be returned to Kim's family in Macau.

North Korea military drill targets South's presidential office

A Malaysian police source who had seen closed-circuit TV footage from the airport said a woman was involved in the attack.

"So far from the CCTV we can confirm it's a woman," the source said.

Asked during a news briefing if the murder of Kim Jong Nam was confirmed, South Korean Unification Ministry spokesman Jeong Joon-hee said, "Yes, I have said it is confirmed."

South Korea's TV Chosun, a cable-TV network, cited multiple South Korean government sources saying that Kim had been poisoned with a needle by two women believed to be North Korean operatives who fled in a taxi.

Details could not independently been confirm.

Officials at the North Korean embassy in Kuala Lumpur would not speak to reporters gathered outside its gate and refused them entry. A few cars were seen leaving the embassy.

Michael Madden, a US-based expert on the North Korean leadership, cast doubt on the notion that Kim Jong Un had personally ordered the killing of his half-brother.

Doing so would further feed the perception that Kim Jong Un is engaged in a "reign of terror" and is insecure about his leadership, and would also irritate China and Malaysia, countries with which it has relatively good relations, Madden said.

"It does not serve Kim Jong Un's political interests to have Jong Nam assassinated," he said. "It is likely that if he was killed by North Korean operatives, then someone else pushed the button."

South Korea's Unification Ministry urged North Korean defectors in South Korea and abroad to be mindful of their security.

Malaysia is one of a dwindling number of countries that has close relations with North Korea, whose nuclear tests and ballistic missile launches - the latest of which took place on Sunday - have provoked global sanctions.

Malaysians and North Koreans can visit each other's country without visas.