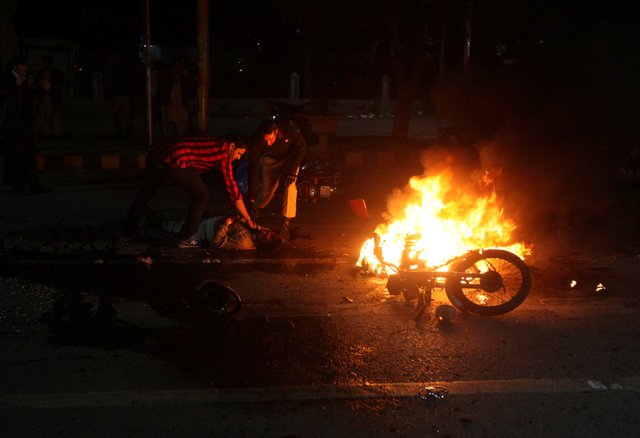 ---
QUETTA/ PESHAWAR/ ISLAMABAD/ LAHORE: The deadly suicide attack in Lahore which claimed 13 lives – including those of two senior police officers – on Monday is described as a failure of security agencies as they failed to counter it despite a prior intelligence report.

The government and police are shifting responsibility by terming the intelligence report 'vague' and not 'specific'. However, independent defence analysts are holding the security institutions responsible.

Defence analyst Hassan Askari said the recent statements of the outlawed TTP Jamaatul Ahrar showed their confidence as they were specifying their targets despite being dislocated by the Operation Zarb-e-Azb.

Preliminary probe reveals Lahore bomber did not act alone

"It seems that the terrorists are reorganising and their next target is Punjab, where a large number of extremists moved to after being dislocated by Zarb-e-Azb. There is therefore a need to carry out a military operation in Punjab to tackle the future situation," he said.

He said most of threat alerts did not materialise as security agencies did not take them seriously. Questioning authenticity of the alerts, he said they were generated by tapping communication, media reports and information gathered from the arrested suspects. "These are not precise because our intelligence agencies penetration in the militant networks," he added.

Talking to The Express Tribune, Lahore City Police spokesperson said the police are in a war-like situation. "For the last three weeks we have declared red alert. We have increased number of security pickets in the city and are conducting search operations on a daily basis," he said.

Before the Lahore attack, the TTP Jamaatul Ahrar had released a video announcing to launch 'Operation Ghazi' in memory of Abdul Rasheed Ghazi, who was killed in July 2007 by the Pakistan Army inside Laal Masjid of Islamabad.  The video message was clear. It demanded cooperation from other militant outfits that had been scattered after the start of the operation Zarb-e-Azb.

After the Lahore attack, the TTP's Waziristan faction and the Jamaatul Ahrar claimed responsibility. An intelligence official who spoke on the condition of anonymity said, "We are also investigating the militants' nexus because Ahrar had been previously collaborating with the Lashkar-e-Jhangvi (LeJ) in carrying out attacks."

Lahore attack would've been avoided by implementing NAP: Imran

The TTP-JA has already claimed that it carried out Chaman (Balochistan) attack on the FC jointly with the LeJ Al-Alami. The blast in Kurram Agency on Jan 21, 2017 and the suicide attack in the courts was claimed by IS's official media outlet.

"This shows a growing collaboration amongst militant outfits. The targets pointed out in the video are all in the cities," he said. The Taliban's Mehsud faction and those affiliated with Mullah Fazlullah have already joined hands, according to a statement released on February 02.

Published in The Express Tribune, February 15th, 2017.