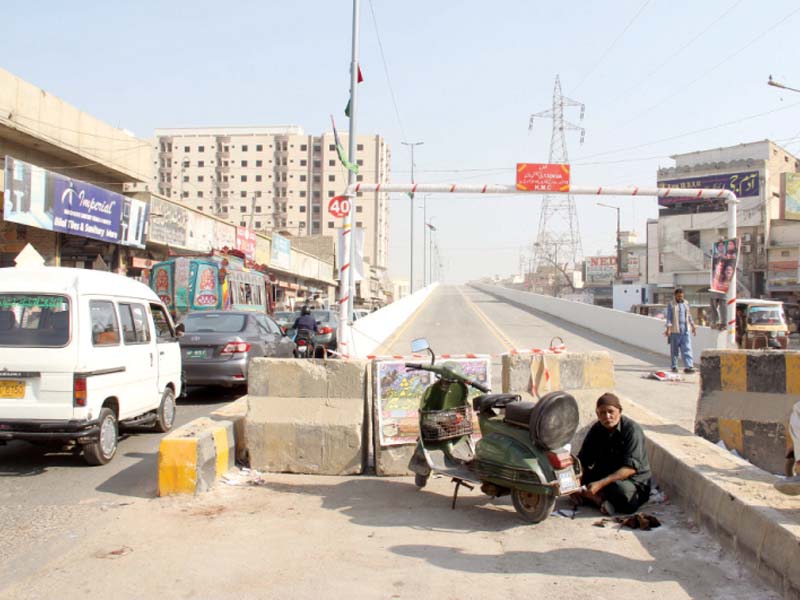 ---
KARACHI: The Korangi Crossing Flyover I, despite being completed, remained closed for traffic for two days until Chief Minister Murad Ali Shah ordered that it be opened for traffic Tuesday evening.

Controversy over the inauguration of the flyover began on Sunday. The Karachi Metropolitan Corporation (KMC) issued a media invitation on Saturday for the inauguration of the flyover's two-way section, which is known as flyover I, on this road from KPT Interchange to Ibrahim Hyderi, whose construction started back in November, 2015.

However, on Sunday, neither Shah nor Mayor Wasim Akhtar turned up for the inauguration and the media kept waiting until street children removed the ribbons and traffic began to be plied on the flyover. Later, an official of the project's contractor, Shamsher Khan and Co told The Express Tribune they received orders from the director-general of technical services at KMC, Shahab Anwar, to immediately close the flyover.

An official of the KMC, requesting anonymity, said the KMC kept calling CM House on Sunday to inquire when the CM would reach the venue to inaugurate the flyover but did not receive any answer. Later, on Sunday, the CM House issued a clarification stating that the inauguration was not on their schedule.


The flyover after being opened for traffic on the CM's orders. PHOTO: AYESHA MIR/ EXPRESS

According to Shamsher Khan and Co's official, initially they received the order from the KMC to make arrangements for the inauguration and a plaque was also installed on one side of the flyover on which Sunday's date and the names of the CM, Local Government Minister Jam Khan Shoro and mayor were inscribed. "Later, we had to close the bridge when no officials showed up and we received orders to immediately close the flyover," said the official, adding that it was sheer mismanagement and lack of coordination on part of the KMC and Sindh government, due to which the public suffered for two days. Despite the completion of the flyover on Saturday, the official said the public could not use it until Tuesday evening simply because the senior officials wanted to cut the ribbon and gain media attention.

Further snags

The fate of flyover II, in front of Indus Hospital on the road coming from the Nasir Jump to the one leading to the KPT Interchange, hangs in the balance. The construction of the two flyovers is part of one project. Initially, an underpass was to be constructed at the Korangi Crossing but due to the presence of major utility lines the idea was scrapped. A revised PC-1 of the flyover has yet to be approved.

The official explained that for the construction of flyover II, the Sindh government has yet to release funds. The official also said that K-Electric's extra high-tension wires are supposed to be removed and for that they are waiting for funds from the KMC.

Published in The Express Tribune, February 15th, 2017.