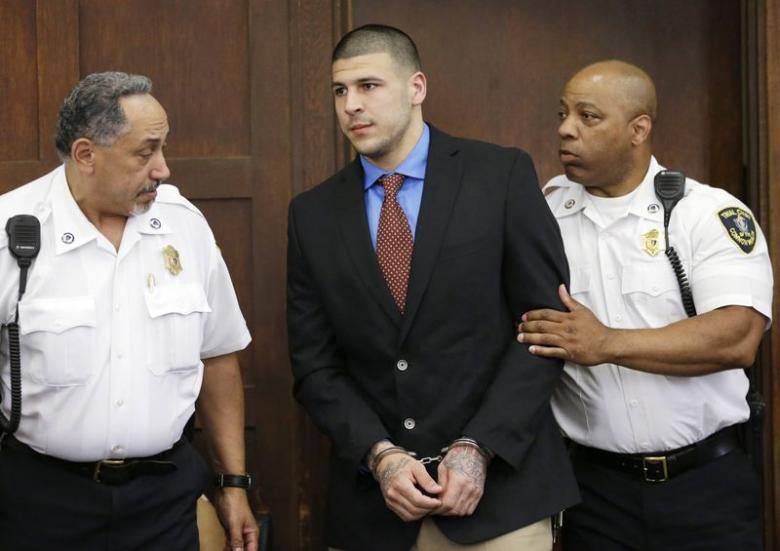 ---
BOSTON: Former National Football League star and convicted killer Aaron Hernandez is due back in a Boston courtroom on Tuesday for his second murder trial, this time on charges that he shot two men dead outside a nightclub after a dispute over a spilled drink.

Prosecution and defense lawyers are set to begin the lengthy process of selecting a jury from a pool of 600 candidates, a week after his former teammates paraded through the city to celebrate their fifth Super Bowl win.

Massachusetts Superior Court Judge Jeffrey Locke has set aside more than two weeks for jury selection, with prosecutors' opening statements not expected until March.


Lady Gaga dazzles Super Bowl with message of inclusion


Hernandez, 27, is already serving a life sentence after another jury convicted him of fatally shooting an acquaintance, Odin Lloyd, in an industrial park near his North Attleborough, Massachusetts home in June 2013.

The athlete's fame will make it challenging to find jurors who have never heard of him, likely causing attorneys to instead seek people who had not followed his prior murder trial, said Robert Bloom, a professor at Boston College Law School.

That questioning would have to proceed delicately to avoid introducing the idea. "You don't want to mention it so it would be a more open-ended question like, 'Have you ever heard of him and what have you heard about him,'" said Bloom.

The heavily tattooed tight end, who has pleaded not guilty, had been a rising star with a $41 million contract when he was arrested for Lloyd's slaying.


Ads bring political message to Super Bowl


The Patriots cut him hours after he was taken into custody. Hernandez had been in custody for almost a year when prosecutors charged him with fatally shooting Cape Verdean nationals Daniel Abreu and Safiro Furtado in 2012 outside a Boston nightclub, after one of the men accidentally spilled a drink on him.

Prosecutors plan to call as a witness a former friend of Hernandez's, Alexander Bradley, who was present on the night of Abreu and Furtado's slaying.

Hernandez is also charged with witness intimidation for having shot Bradley in the face. That incident cost Bradley an eye.


Finding spotlight in career's twilight — The Matt Bryant story


During Hernandez's first trial, which ran for four months in 2015, jurors heard that the native of Bristol, Connecticut, was a regular user of marijuana and sometimes the stimulant PCP who owned guns and at times acted paranoid, telling his friends he did not believe they appreciated the things he did for them.
COMMENTS
Comments are moderated and generally will be posted if they are on-topic and not abusive.
For more information, please see our Comments FAQ