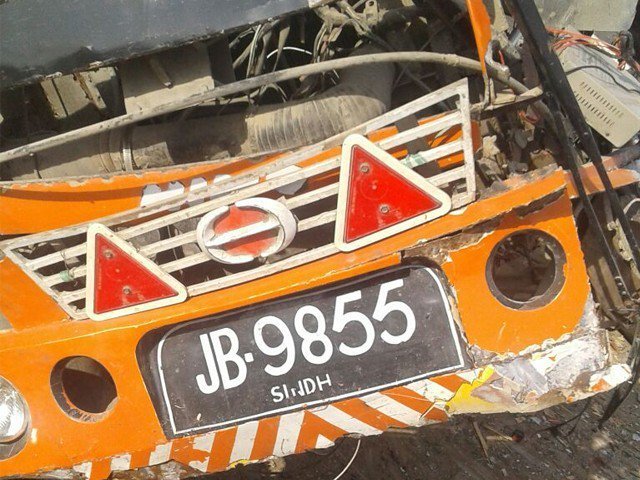 ---
KARACHI: Another deadly highway accident on Tuesday at the outskirts of the port city has wreaked havoc on the lives of common citizens.

''The bus was overloaded and was speeding when it crossed Steel Town just before the incident. And when it was over, most of the passengers were unconscious,'' said Ghulam Rasool.

Rasool was one of the many unfortunate passengers aboard the Tando Bagho-bound bus which crashed into a column of the Sassui Toll Plaza on the National Highway on Tuesday.

At least six passengers were killed and over 26 injured on the bus, which left from Lee Market in Karachi at around 6:15am.

Rasool said that of the five people accompanying him, one – Anwar Khan – is dead and two of his nephews sustained head injuries are being treated in the emergency ward at Jinnah Postgraduate Medical Center (JPMC).

5 killed as bus overturns on Karachi's National Highway

Rasool broke down while retelling the sequence of events.

After taking a break, he added that soon after the incident, "Most of the passengers were covered in blood and had fallen unconscious."

A victim who was being treated for a head injury at JPMC told The Express Tribune, " Either the brakes failed or the front tyre burst, after which it hit a column of Sassui Toll Plaza.

He added that many passengers were injured because the chassis of the bus broke off from the rest of the body.

Among the injured was a labourer identified as Ameer Ali who has a head injury and a broken leg.

At least 4 killed as bus overturns in Karachi

Ali said the bus was full and the accident occurred between 8:15am and 8:30am.

Furthermore, among the dead were two female public school teachers who had boarded the bus near Bhains Colony from Gharo.

Muhammad Suleman, a son of one of the teachers, was grief-stricken.

The boy's eyes were frozen on his mother's grave in disbelief.

JPMC Head Seemin Jamali said five persons brought to the hospital had died on the way, which included two women and three men.

Jamali said that out of the 27 injured, five had already been admitted while the rest were discharged after receiving treatment.