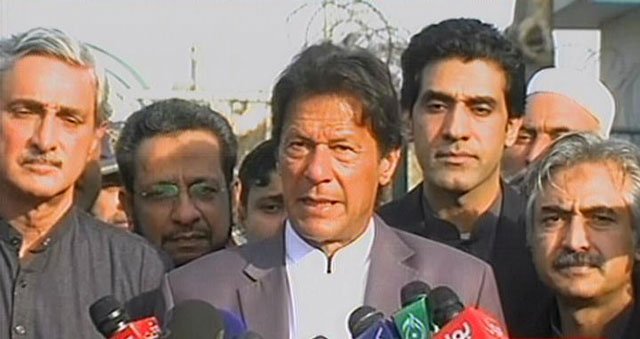 ---
Pakistan Tehreek-e-Insaf (PTI) chairman Imran Khan said incidents of terrorism including Monday's blast in Lahore would not be occurring if the National Action Plan (NAP) had been implemented in its true spirit.

"The war against terrorism can't be won until the police force is strengthened and depoliticised," Imran said while speaking to the media outside Allama Iqbal Airport in Lahore. "Army and Rangers cannot do everything [to overcome terrorism] on their own."

Slamming the provincial governments of Punjab and Sindh over alleged malpractices in the police, the PTI leader claimed rulers were not sincere in the uplift of the police force because of their vested interests.

Country mourns as toll from Taliban attack in Lahore rises to 15

The cricketer-turned-politician said his party will present the Khyber-Pakhtunkhwa (K-P) Police Act in the Parliament as well as the provincial assemblies of Punjab and Sindh. "If they [rulers] really care about the well-being of the people, they will let this act pass in their respective assemblies," he said.

Hailing the performance of the K-P police, Imran claimed the crime rate had reduced in the province due to the PTI government's sincere efforts to uplift the forces.

Fata reforms are need of the hour

Talking about Federally Administered Tribal Areas (Fata) reforms, the PTI chief said there was a dire need to merge the tribal region with K-P.

"If we are to capitalise on the gains of Operation Zarb-e-Azb, we need to introduce Fata reforms," he said, lamenting that nothing was being done to act on the issue.

Govt busy in saving PM from Panamagate

Firing a broadside at Prime Minister Nawaz Sharif and his cabinet, Imran said Nawaz and his ministers did not care about anything but saving him from the Panama Papers scandal. "The government is not functioning because its machinery is engaged in protecting the prime minister's corruption," he said.

Questioning NAP's implementation, the PTI leader said all political parties signed the plan and it should be implemented immediately. "When there's a political consensus on NAP, why is it not being implemented?" he questioned.

Later, he went to Ganga Ram Hospital to meet survivors of the attack.