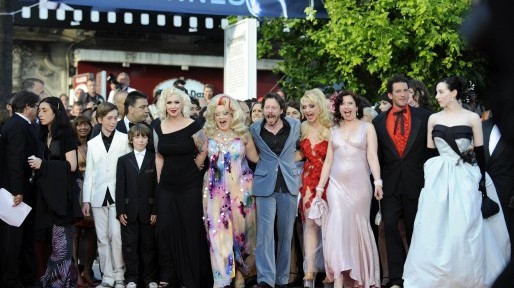 ---
CANNES: Cannes entered its second day on Thursday with some blasting performances, special appearances and celebrating father son themes common to the movies screened.

Absent fathers and wayward sons give emotional guts to this year's Cannes festival, led by acclaimed Chinese director Wang Xiaoshuai whose film kicked off the competition.

As well as Wang's Chongqing Blues, films by Britain's Ridley Scott and Mexico's Alejandro Gonzalez Inarritu plus Hungarian and French directors offer fresh takes on the father-son theme in entries for the Palme d'Or top prize.

Scott's take on the legend reinvents the English outlaw as a rootless orphan, traumatised at age six by witnessing his father's execution and adopted in adulthood by a bereaved man played by Swedish veteran Max von Sydow.

In Chongqing Blues, a highlight of the Palme competition's first day, actor Wang Xueqi plays a divorced sailor who returns from sea looking for the truth behind the violent death of his son whom he left behind years before.

"The father can't recover lost time but he does move closer to his son," Wang told reporters after the screening of his film. The son "refused the world because his father refused him," he added.

"The father is long absent. The film reflects the feelings and relations between father and son."

Among these sombre and violent tales, comic relief came from On Tour by French film-maker Mathieu Amalric, best known internationally as the villain in the James Bond movie Quantum of Solace.

Screening next week, Hungarian director Kornel Mundruczo's Palme entry Tender Son - The Frankenstein Project tells of a disturbed young man who embarks on a murderous search for his lost father.

In Biutiful by Mexican director Inarritu, the Oscar-winning Spanish actor Javier Bardem plays an underworld character struggling to protect his children, according to organisers. It premieres on Monday.

Critics have noted that this year all the Palme entries are directed by men.

Berlusconi blasted in quake film at Cannes

Cannes witnessed a blistering attack on Silvio Berlusconi on Thursday with a Michael Moore-style documentary portraying the prime minister as a vampire sucking the blood out of Italy.

Italy's culture minister boycotted the film festival to protest against the documentary's screening here because he said it was "a propaganda film... that insults the truth and the Italian people."

"Draquila - Italy Trembles" accuses Berlusconi of using last year's deadly earthquake in the central Italian town of L'Aquila to boost his image at a time when it was tarnished by a series of lurid sex scandals.

Jailed Iran director Panahi appears on-screen in Cannes



The jailed Iranian film-maker, Jafar Panahi, described being interrogated by police in a clip screened at the Cannes film festival.

In the three-minute excerpt, Panahi, described an incident three years before his latest arrest when an Iranian security official interrogated him for three hours before releasing him with a threat of further questioning.

Panahi, 49, has been held in Tehran's notorious Evin prison since March 1, when he was detained by Iranian authorities, reportedly because he was making a film about the disputed 2009 presidential election.

The arrest prevented him from coming to Cannes where he had been invited to sit on the jury that names the winner of the festival's top prize, the Palme d'Or.

102-year-old director Oliveira lauded at Cannes

The 102-year-old Portuguese film-maker Manoel de Oliveira drew a standing ovation at a screening of his new film at the Cannes film festival on Thursday.

Joking and wielding his walking stick, Oliveira took the stage to introduce his movie, "The Strange Case of Angelica", the surreal tale of a photographer who falls in love with visions of a dead girl of whom he has taken pictures.

The film kicked off a prestigious non-competition section of the festival titled Un Certain Regard.

In a short speech Oliveira dedicated the movie to the festival's president Gilles Jacob "for all he has done for cinema throughout his life."

Michael Douglas storms Cannes in Wall Street



Michael Douglas stormed the Cannes film festival on Friday with a crackling performance as the rogue banker Gordon Gekko alongside Shia LaBeouf in Oliver Stone's blockbuster Wall Street sequel.

In Wall Street - Money Never Sleeps, Douglas reprises his role from the 1987 original as the investment fraudster Gekko, who coined the term "greed is good".

In the new film, Gekko comes out of jail older and wiser, but with the same reptilian instincts -- and reconnects with his estranged daughter at the dawn of the financial crisis.

The film-maker said the movie, which screens out of competition at the annual Cannes film bonanza, responded to the financial recklessness that led to the recent crisis.

"The greed has not stopped," Douglas said, quoting his character in the film. "It became legal."
COMMENTS
Comments are moderated and generally will be posted if they are on-topic and not abusive.
For more information, please see our Comments FAQ