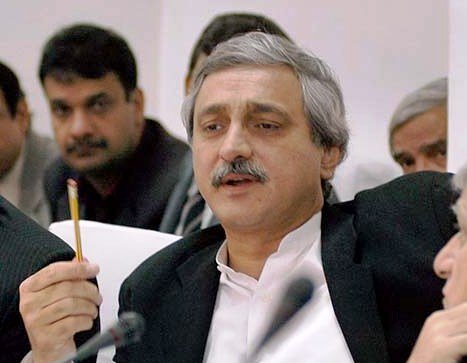 ---
ISLAMABAD: Pakistan Tehreek-i-Insaf's general secretary Jahangir Tareen has filed a review petition against a Supreme Court verdict barring the Sharif family from operating their three sugar mills for seven days.

The SC also clarified that the order regarding a halt in the sugar mills' operations would take effect from February 12.

The three-judge bench of the apex court, headed by Chief Justice Mian Saqib Nisar, in its written order directed the Lahore High Court (LHC) to decide the Sharif family's stay applications on the illegal establishment of sugar mills at new locations by February 18.

SC suspends operation of Sharif family's sugar mills

LHC Justice Aysha A Malik on October 10 last year stopped the Sharif family and their relatives from operating their five mills at new locations.

The judgment was issued on a petition filed by JDW Sugar Mills of PTI's Jahangir Tareen, the owners of Indus Sugar Mills and others in 2006.

However, the LHC's division bench provided relief to the Sharif family by allowing three sugar mills – Ittefaq Sugar Mills, Chaudhry Sugar Mills and Haseeb Waqas Sugar Mills – to continue crushing sugarcane. The division bench also passed several interim orders in favour of the ruling family.

Tareen and others approached the top court against these interim orders. They were represented by senior lawyer Chaudhry Aitzaz Ahsan while the Sharif family and their relatives engaged Salman Akram Raja.

Tahir Khattak, who is working with the Advocate-on-Record (AoR), MS Khattak, confirmed that a review petition had already been filed on behalf of Jahangir Tareen on Monday.

PTI leader litigation: Shahbaz says proof exists for Rs349b loan write-offs

A lawyer in Aitzaz Ahsan's legal firm also said that the review petition sought the SC's clarification regarding its written ruling and the order, which was dictated in the open court on February 9.

He pointed out that various news reports, copies of which were attached with the petition, stated that the SC had halted the sugar mills' operations till the final LHC verdict. But the written order differed in that the Sharif family was restrained from carrying out their manufacturing activities for just seven days, starting from February 12.

A senior PTI lawyer also feared that the high court might not decide the stay application during the next seven days because the Sharif family's attorney, Salman Akram Raja, would be busy in the Panamagate case from February 15.

He said that although the LHC fixed the matter for hearing on Tuesday (today), but Lahore High Court Bar Association (LHCBA) announced to boycott the court's proceedings after the bomb blast in Lahore on Monday.

Published in The Express Tribune, February 14th, 2017.