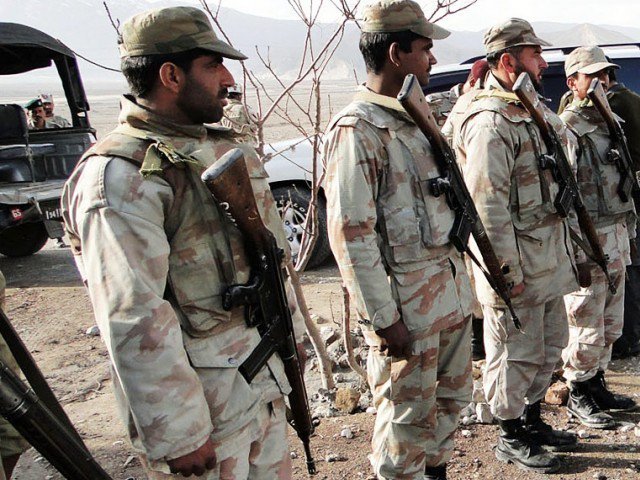 ---
WANA: Three paramilitary soldiers were killed in a roadside bomb blast in a tribal region near the border between Pakistan and Afghanistan on Monday.

An improvised explosive device (IED) was remotely triggered when the three soldiers from the Frontier Corps were on patrol on a motorcycle in the Toi Khula area of Wana tehsil, South Waziristan Agency, officials said.

The soldiers suffered fatal wounds and were pronounced dead at the Scouts Hospital in Wana where they had been rushed to.

The officials identified the slain soldiers as Jamil Khan, Qismat Khan and Noor Ahmad. Security forces cordoned off the area after the attack and mounted a search operation which didn't yield any arrests.

The deadly attack came as army chief General Qamar Javed Bajwa visited South Waziristan, one of the seven semi-autonomous tribal regions where the army has for more than a decade been battling militants linked to the Taliban and al Qaeda.

The areas are off-limits to journalists and it is impossible to independently verify incidents reported by the military or militant groups.

The army launched an operation, codenamed Zarb-e-Azb, in June 2014 in neighbouring North Waziristan to wipe out militant bases in the tribal areas and end an insurgency that has cost thousands of civilian lives since 2004. As a result security has improved. Attacks still take place, but fewer than previously.

Khyber-Pakhtunkhwa Governor Iqbal Zafar Jhagra condemned the attack and reiterated the resolve that the war against terror would continue till the elimination of all terrorists. He also paid tribute to the sacrifices of the martyred.

Over in Balochistan, two explosives experts were killed while defusing a bomb planted by militants near an overhead bridge on Monday evening. Around a dozen people were also wounded in the blast that took place in the Sariab Road area of Quetta.

"Bomb Disposal Squad (BDS) Commander Abdul Razzaq and Constable Abdul Majeed were killed in the blast while defusing the bomb," DIG Abdul Razzaq Cheema confirmed, adding that the injured included two police constables.

Residents spotted a suspicious object close to a wall of the overhead bridge on Sariab Road and reported it to police, according to sources. A BDS team was rushed which immediately cordoned off the site and got to work to defuse the device.

Commander Razzaq, along with Majeed, was unwiring the bomb when it suddenly went off, killing him and the constable on the spot and injuring eight others. "The two bodies were literally blown up," a police official told The Express Tribune.

Medics identified the injured as Irfanullah, Ali Hassan, Maqsood Ahmed, Kamran Farooq, Habib, Qasim Badini, Muhammad Atif, Kaleemullah, Lal Gul and Amir Khan.  No group immediately claimed responsibility for the bomb attack.

(With additional reporting by Mohammad Zafar in Quetta)

Published in The Express Tribune, February 14th, 2017.