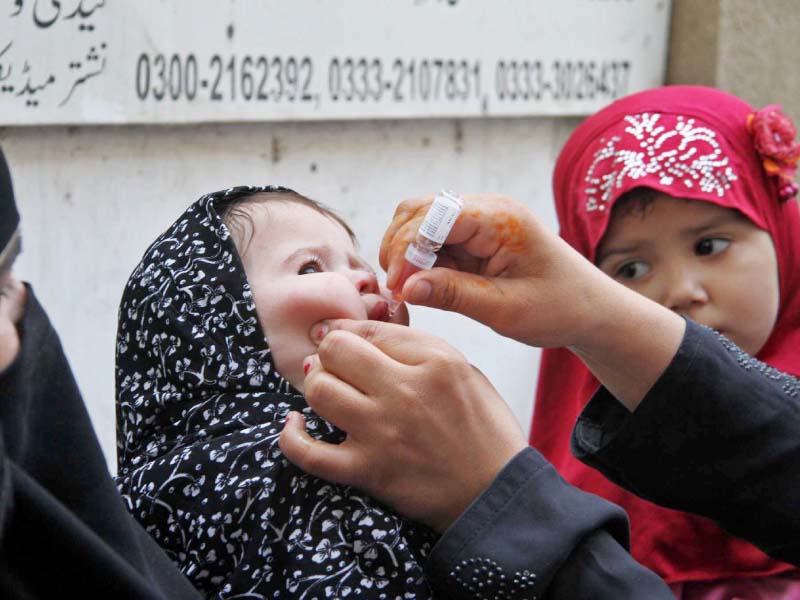 ---
KARACHI: The first phase of the Inactivated Polio Vaccine (IPV) campaign began in 136 union councils of Karachi and in districts of Thatta, Badin, Sujawal and Tando Muhammad Khan was initiated on Monday.

The campaign is part of the government's measures to protect children from the polio virus, in addition to the oral polio vaccine campaigns that are considered 'critical' to eliminate the virus in the country.

The Emergency Operation Centre (EOC) for polio, Sindh, which is supposed to coordinate the efforts to eliminate polio, launched the first phase of the IPV campaign in selected areas from the February 13 to 21.

Poliovirus: 'Cover-up' unearthed in anti-polio campaign

A total of 20 cases were reported in Pakistan last year, out of which two cases each were reported from Sujawal and Badin in the last four months of 2016, prompting authorities to take extra measures to keep children in these areas safe from polio. "There are two major factors - malnutrition and low routine immunisation - behind launching the IPV campaign in these particular areas," said EOC Sindh head Fayaz Jatoi. He said the campaign is aimed at giving kids who are malnourished or have low immunity an extra boost to secure their futures and save them from polio.

The IPV campaign is targeting 357,629 children between four and 23 months of age in Karachi, while 260,285 children will be given IPV in Thatta, Badin, Sajawal and Tando Mohammad Khan districts.

In addition to IPV, 465,801 children up to two years of age will be given the oral polio vaccine in Karachi and 320,581 children will receive the oral polio vaccine in the other districts.

Polio eradication: 'UNICEF supporting Pakistan'

"IPV is an extra [measure] to boost children's immunity but it does not replace the oral polio vaccine and parents must cooperate and continue to give their children polio drops despite the injections being given," said Jatoi.

He stressed that IPV given alone does not induce the same level of immunity as the oral vaccine. Thus, while individuals vaccinated with IPV alone are protected against paralysis, they can excrete the virus and allow it to continue to spread,  meaning it is essential that parents and caregivers immunise their children with oral vaccines whenever they are offered, until polio is eradicated in Pakistan, he explained.

Published in The Express Tribune, February 14th, 2017.
COMMENTS
Comments are moderated and generally will be posted if they are on-topic and not abusive.
For more information, please see our Comments FAQ