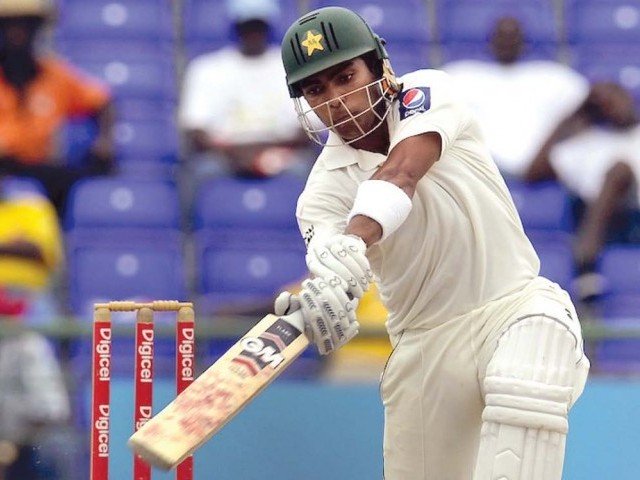 ---
Middle-order batsman Umar Akmal feels he can make his comeback in Pakistan's Test side even though he has been kept out of the longest format of the game for the past six years.

Akmal, in 16-Test career, has a batting average of 35.82 and only one century to his name, which came on his debut back in 2009. His inability to score big saw him dropped from Misbahul Haq's squad in September 2011, and he has since been unable to win over selectors.

However, the younger of the three Akmal brothers is of the opinion that his batting style is perfect for the way Test cricket is being played nowadays, which is why he feels he deserves another chance.

"I still wonder what I did wrong and where I went wrong to be dropped from Test side," said the 26-year-old Akmal in an interview with ESPNCricinfo. "They only dropped me saying that I am not suitable for Test cricket because I don't hold back, which is required in Tests.


Umar Akmal makes unwanted record for most T20 ducks


"But the approach to playing Test cricket has changed over the years. Now teams score 350 or so in one day and matches hardly go into fifth day. I was playing the very same brand of cricket, which was actually evolving at that time, but I was dropped because I play fast and not the conventional way. Was that my mistake? If so, then the whole world has now adapted this modern form of cricket in Tests as well."

Akmal's detractors often accuse him of not being able to score big, but Akmal believes the criticism is harsh on him as he often comes to play when the situation requires him to score quick runs rather than build an innings.

"If I am asked to score ten per over then what you expect from me?" Akmal asked rhetorically. "Should I play for myself, score at five, and let the run rate mount on my team? No, I rather go out, play big, and try to achieve my team's requirement. And we all know where I play [in the batting order], at which number. People often compare me with other batsmen but why don't people realise that the number I bat at is critical and there is the burden of extra responsibility.


Umar Akmal — a waste of world-class talent


"I still try to help my team out of pressure situations by pushing back the opponent, but sometimes I am not able to do so. But my intentions are clear that I want to play for my team according to the requirement and will play my shots."

Another stick that Akmal is often clobbered with is his fitness and weight issues, with his 115.6 fat-level reading considerably high than what is optimal for high level athletes.

The Lahore-born again is of the opinion that critics have no reason to be on his case as his physique has never hampered his agility and performance in the field.

"If you talk with different players around the world, some are slightly bulky and some are smart in physique, but that doesn't mean weight defines their actual fitness," said Akmal. "I don't remember going off the field in a game, or conceding a second run. I am energetic in the field and my running between the wickets is fine as well.


He's got the groove: Umar Akmal shows his moves in BPL


"So what exactly do you expect from me? To be smart and thin, why? I can quote you many examples in which those players are theoretically fit but cannot even clear the circle. I have a natural body and if I try to reduce it I may lose my strength for power hitting."