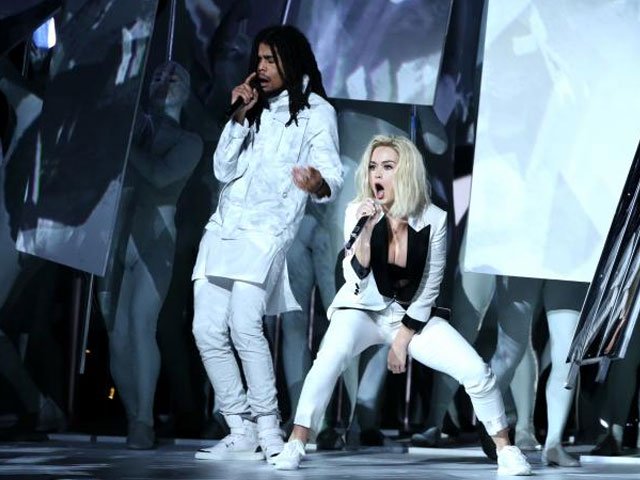 ---
A giant video projection of the US Constitution loomed over the stage at this year's Grammys, making the music industry's top awards show one of the most overtly political yet.

The document that defines America and famously begins with "We the People" provoked a standing ovation from the audience at the culmination of a performance by pop singer Katy Perry, who sang her newly released song, Chained to the Rhythm.

With a refrain of "We think we're free," the song's lyrics talk about being lulled into a "comfortable bubble." Performing on a set with a picture-perfect white picket fence, Perry was joined by Skip Marley, grandson of Jamaican reggae legend Bob Marley, whose songs often protested against oppression and social injustice.

Shia LeBeouf's anti-Trump exhibit shuttered over safety concerns

The aftermath of November's bitterly fought US presidential election has produced a succession of political comments by artists at awards shows, most notably actor Meryl Streep's speech attacking US President Donald Trump during the Golden Globes Awards in January this year.

That spree continued on Sunday, as various artists brought up the divisive political atmosphere and the need to speak out.

"At this particular time in history, our voices are needed more than ever," said Jennifer Lopez at the show's start.

In a more comic vein, Grammys host James Corden launched the show with a rap, "Live it all up because this is the best, and with President Trump we don't know what comes next."

Hip-hop pioneers A Tribe Called Quest performed a politically charged medley with nominee Anderson Paak and Busta Rhymes, who called out to Agent Orange, a nickname for Trump, sarcastically thanking him for his "unsuccessful attempt at the Muslim ban." At the end of the song, women wearing headscarves joined the performers onstage accompanied by cries of "Resist!"

Perry wore an armband that said "Persist."

Hollywood celebs planning anti-Trump rally

Ahead of the main awards show, Chance the Rapper won a Grammy for best rap performance, wearing a black hoodie with "Obama" on the back and "thank you" on the front.

But the commentary was not all anti-Trump. In a bold statement that instantly made headlines, singer Joy Villa on the red carpet revealed a gown with "Make America Great Again" - the election slogan of Trump - stitched down the front.

The president of the Recording Academy, Neil Portnow, called on Trump to renew the government's commitment to the arts, saying Americans are "constantly reminded about the things that divide us," citing race, religion, sexual orientation and politics. "But what we need so desperately are more reminders of all that binds us together."

Have something to add to the story? Share it in the comments below. 
COMMENTS
Comments are moderated and generally will be posted if they are on-topic and not abusive.
For more information, please see our Comments FAQ