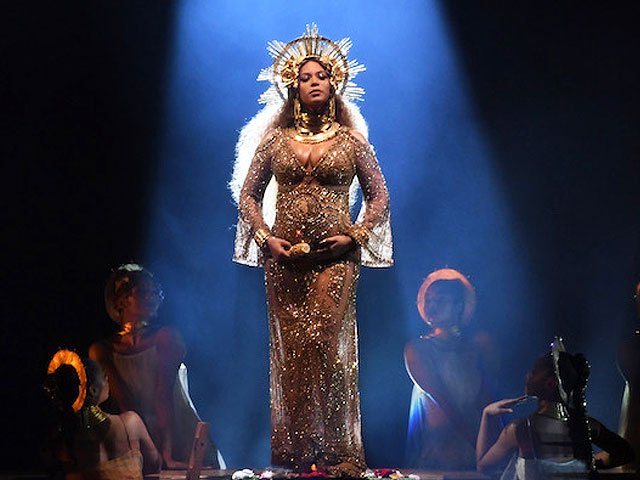 ---
Pop superstar Beyonce, proudly caressing her pregnant belly, took the Grammys stage by storm on Sunday on a night marked by political statements, sentimental tributes and a misstep by British singer Adele.

In her first public appearance since her surprise announcement 12 days ago that she is expecting twins, Beyonce donned a sheer, glittering gold dress and halo to sing a medley of emotional ballads Love Drought and Sandcastles from Lemonade, her Grammy-nominated album about feminism, race and betrayal.

Moments later though, it was Adele who literally stopped the show after flubbing the start of a tribute to the late British pop star George Michael. "I'm sorry. I know it's live TV," she said, cursing, stopping her slow ballad version of Michael's Fast Love and asking to start again. "I can't mess this up for him (Michael)," she said.

Adele was given a standing ovation after completing the song, one of two separate tributes to Michael and musician Prince, both of whom died unexpectedly in 2016.

Drake, Kanye West and Justin Bieber to boycott upcoming Grammy Awards

Beyonce went into Sunday's awards show with a leading nine nominations and won two in the early going, saying the intention of the album was to show all women they could be "beautiful, intelligent and capable."

She is competing head-on with Adele, 28, the only other artist to be nominated for all three top awards - album, song and record of the year - to be handed out at the end of the show.

Adele took two early awards, beating Beyonce in the pop vocal performance category, and her best-selling 25 also won for pop vocal album.

As with other recent award shows, artists wasted no time getting political.

Katy Perry wore a glittering armband saying Resist and her performance of Chained to the Rhythm featured banners showing the words We the People, the opening sentence of the U.S. Constitution.

Host James Corden, opening the show with an extended rap about the power of music, sang Live it all up, because this is the best, and with President Trump, we don't know what is next.

Chance the Rapper was named best new artist while Twenty One Pilots won the Grammy for best pop duo/group performance for Stressed Out.

The duo took off their pants to accept the award on stage to make good a promise they made to themselves when starting their careers to accept a first Grammy in their underpants.

The other big winner was late British singer David Bowie, who won all five of the nominations for his final album Blackstar, including best rock song. They marked the first music Grammys for the British singer who had never won in his lifetime for an individual album or song.

Adele to perform at Grammys again, after last year's snafu

Blackstar was released just days before his death in January 2016 of cancer.

In addition to Bowie, Michael and Prince, the 2017 Grammys were marked by other absent friends.

Drake and Kanye West, who each had eight nominations, were no shows, as well as Justin Bieber.

Like Frank Ocean, Bieber and West apparently stayed away to signal their feeling that the Grammys are out of touch with young artists, while Drake, who won two early Grammys for single Hotline Bling, is on tour in England.

Have something to add in the story? Share it in the comments below. 
COMMENTS
Comments are moderated and generally will be posted if they are on-topic and not abusive.
For more information, please see our Comments FAQ